ZieZie, Tyrone & Warbz + More
Tue 18th Feb 2020
Doors:

6:30 pm

/
Show:

6:30pm
(Showtimes Approx)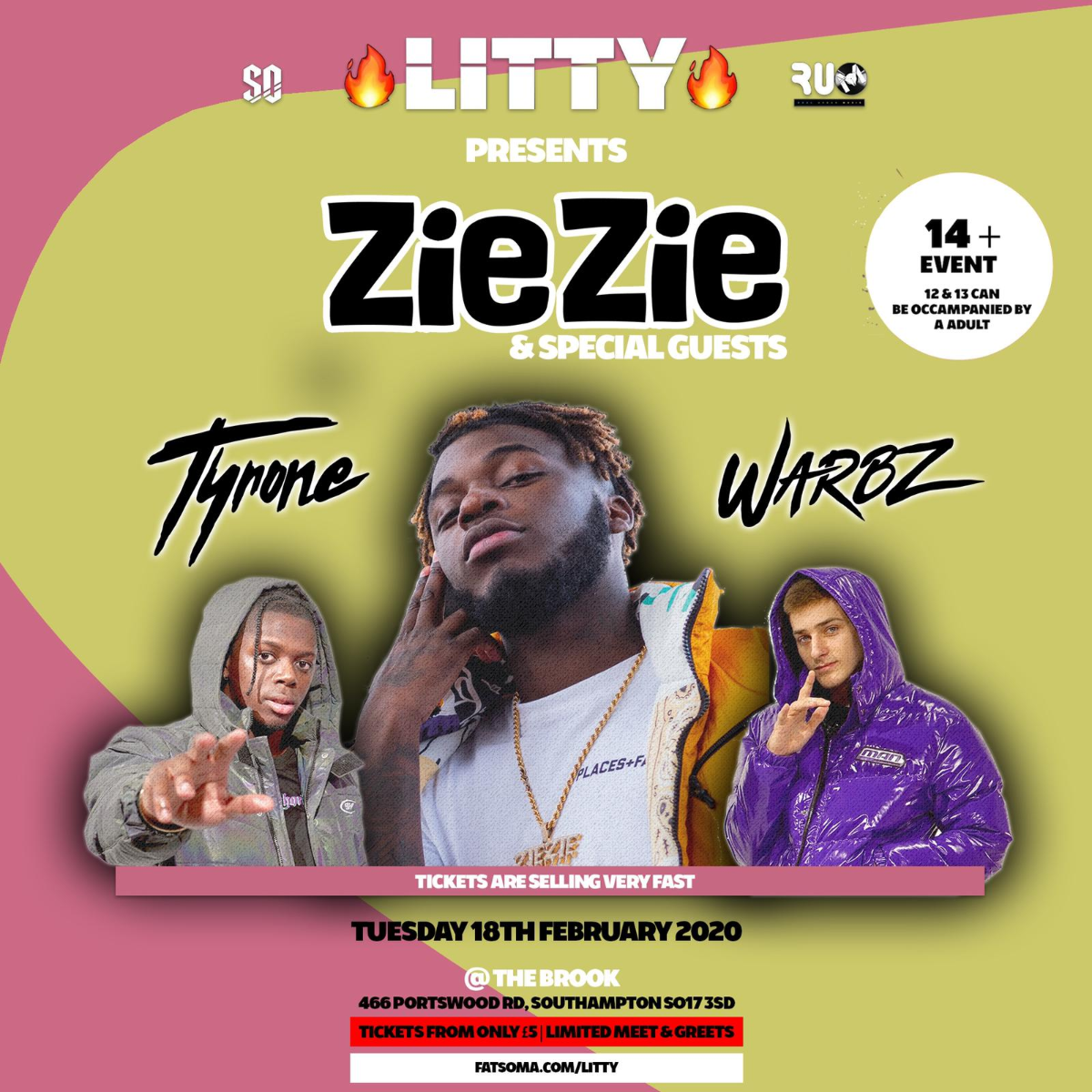 Age: 14+ (12 &13 year olds can enter with Adult)
£17.50 adv
For future tickets, early info and ticket release info, visit
somovement.co
and register!
SO Movement and Real Urban Music (RUM) team up to bring you Litty +14 events. (12/13 year olds can attend with an adult. )
Doors open 6:30PM -
Strict last entry is 7:30PM
with the event to end at 10:00PM.
Litty is a brand created by SO Movement and Real Urban Music (RUM).
ZieZie
LITTY
Was formed in late 2019 to create a safe environment for the youth of Southampton aiming at under 18's. Its a place where they can experience a concert setting seeing global urban artists perform live, as well as become involved in a community that promotes local upcoming artists from the SO Movement. The brand name Litty is a reflection of the positive atmosphere and energy created at its events and is the only brand its kind.

It has fast become the biggest new youth brand in the South, successfully selling out three consecutive shows with artists including the likes of Deno, Swarmz and Pounds with many more in the pipe line including ZieZie.

Litty was created to give young people a chance to enjoy urban music performed live and meet some of the biggest urban acts in an environment where they can feel involved and part of the SO movement.

Litty has proven its success through constant positive feedback not only from the young people attending but also from their parents, showing how the brand has a excellent impact on the youth of Southampton. Many have formed friendships due the community feel of the brand as well as the concerts being a place to go and feel part of something regardless of their background. This in turn is keeping more young people in Southampton away from dangers such as violence, drug abuse and other crimes.

Moving forward, Litty looks to branch out and create events on a wider scale across the South of England, bringing its unique and vibrant atmosphere to many different locations and continue to spread positivity through a passion for urban music.