Guitar maestro from the USA
Josh Smith
Thu 4th Nov 2021
Doors:

7:30 pm

/
Show:

8:00pm
(Showtimes Approx)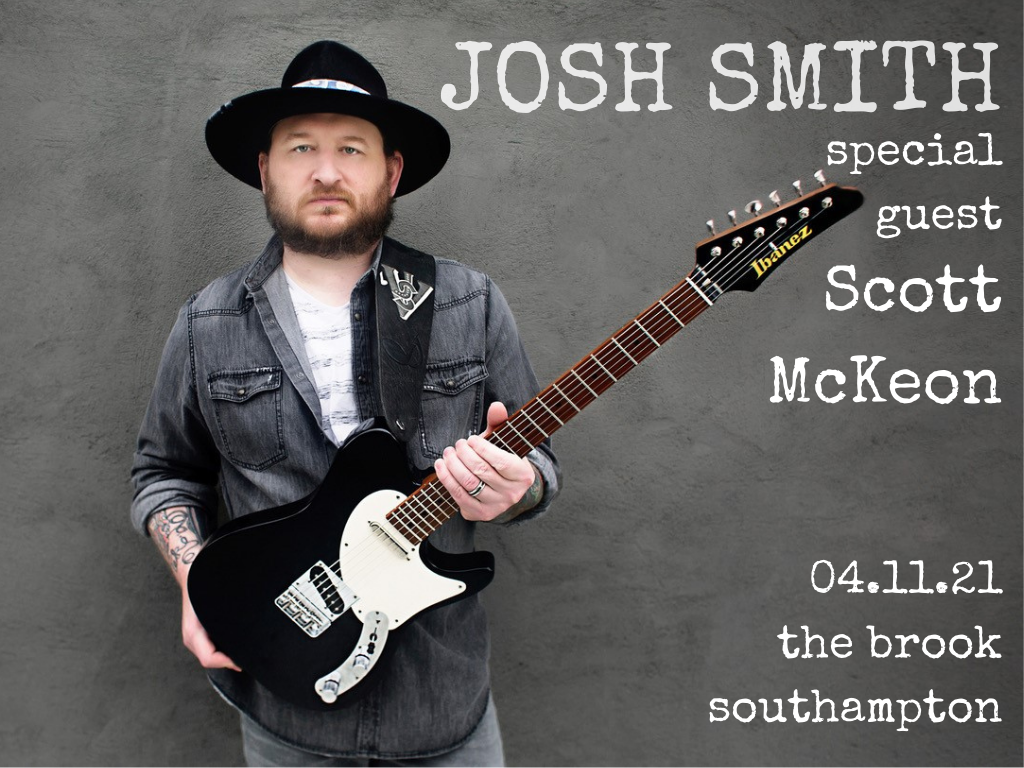 £15.50 Adv / £18.00 Door
Plus Special Guest Scott McKeon

"Josh is one of my favorite musicians on the planet. His musical depth and guitar playing transcend the boundaries of the blues genre into a genre of his own. I am proud to always share a stage with him and even prouder to call him my friend. ". Joe Bonamassa


Josh Smith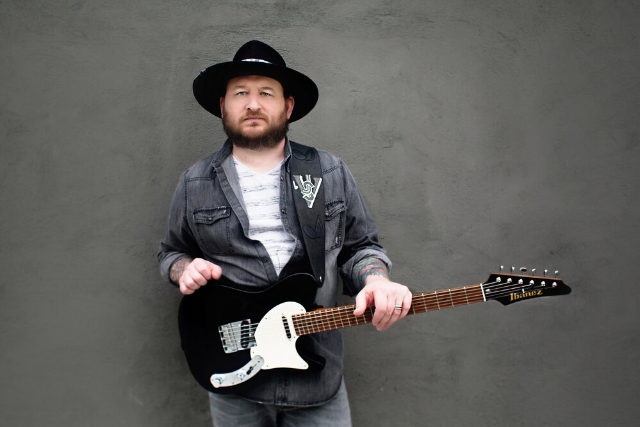 Blues rock guitar virtuoso, singer-songwriter and producer, Josh Smith is hailed the world over as a master guitarist with raw talent and power to spare. Blending his signature mix of blues, rock and jazz into dynamic original songs, Smith is known for his incendiary performances, whether at The Grammy Awards or the Kennedy Center Honors with Mick Jagger, Raphael Saadiq and others.

Josh started playing guitar at age six and was praised as a blues prodigy by the time he was 12. Performing at professional blues jams in South Florida, he sat in with greats such as Jimmy Thackery, Tinsely Ellis, Kenny Neal, Lucky Peterson and more. He began releasing CDs at age 14. Legendary producer Jim Gaines produced his third CD, Too Damn Cold.
Scott McKeon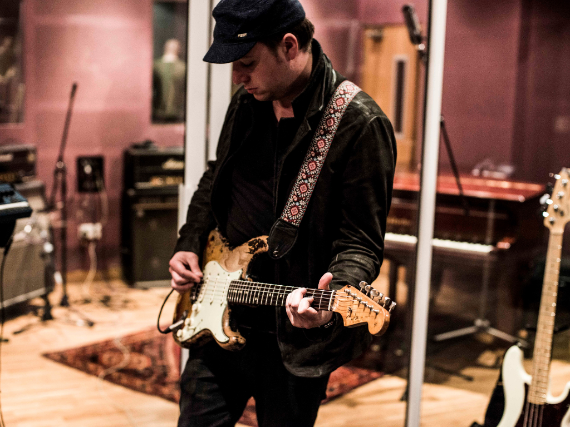 Scott McKeon has given a lifetime of dedication to his craft as a guitarist. Initially inspired by his dad's love of blues, soul and rock music, he took up the guitar at the age of four and has developed a reputation as one of the UK's most in-demand guitarists, both in the studio and performing live.
Scott was raised in southern England on a diet of Buddy Holly, Eddie Cochran, Chuck Berry, Gene Vincent, Hank Marvin, and other 50s rock n roll music, as well as Stevie Wonder, Steely Dan, Motown, RnB, and soul, through his parent's record collection. Scott's dad, Geoff, was a successful guitarist in his own right, with his band The Diplomats opening for The Beatles and Gerry and the Pacemakers in the early 60s, with offers to go to Germany to perform.
By the time he was eight, Scott was playing a full-size Strat and was the face of a Fender ad campaign to inspire a new young generation of guitarists. Around the age of ten, a friend of Geoff's showed Scott and his Dad a video tape of Stevie Ray Vaughan performing at Austin City Limits. This ignited Scott's love of the blues and set him on a path to discover more about Texas musicians such as Freddie King, Lightnin' Hopkins, Doyle Bramhall Sr and Jr, and The Fabulous Thunderbirds. This led Scott to listen to artists including Jimi Hendrix, Albert King, Eric Clapton and BB King, all of which were influences on his playing in these formative years.
In 1998, Scott was the winner of Guitarist Magazine's Young Guitarist of the Year, writing and performing his own song at Wembley Arena. Scott's father sadly passed away shortly after this time, when Scott was 13 years old and already fronting his own blues band, playing most weekends in pubs and clubs around the south coast of England.
At 18, a demo CD was passed onto Jakko Jaksyk of Level 42/King Crimson, who then passed it on to Paul Crockford, Mark Knopfler's manager, who started representing Scott. This culminated in the release of his debut album 'Can't Take No More' - an energetic and raw take on modern electric blues rock, produced by Jesse Davey of UK blues band The Hoax. To promote the album, Scott toured extensively in the UK, Europe and US, sharing stages with Eric Clapton, Derek Trucks, Arc Angels, John Mayer and Sheryl Crow at Hard Rock Calling, Buddy Guy, Johnny Winter, The North Mississippi Allstars, BB King and Joe Bonamassa, as well as playing at The Montreal Jazz Festival, Mont Tremblant Festival, Glastonbury, and making TV appearances in the US.
In 2010, Scott released his second album, 'Trouble', on Mascot Provogue Records and again toured extensively to promote the record. This self-produced album crossed over to the rock/pop genre, with emphasis on song writing coming to the fore, after spending time in Nashville writing and hanging out with fellow guitarist Tyler Bryant earlier that year. The album featured guest performances from David Ryan Harris from John Mayer's band, and legendary UK guitarist Robbie McIntosh. The release of the album led to Scott touring and opening shows for Derek Trucks, Gary Clark Jr and the Arc Angels, and to making his first performance at the Royal Albert Hall supporting Joe Bonamassa. Scott also wrote and produced music for Robert Knight's 'Rock Prophecies' Documentary, which won him a RIIFF award for Best Soundtrack. The makers of Guitar Hero Five also sought him out in order to have a track from 'Trouble' on their game, as did the makers of the TV show LA Task Force.
After moving to London in 2010, Scott found himself in demand as a session musician, playing both live and in the studio, with many artists including Zigaboo Modeliste, James Arthur, Emeli Sande, Lana Del Ray, Van Morrison, Andreya Triana, Ed Sheeran and Rebecca Ferguson. Working outside of the blues genre widened Scott's musical palette.
In 2014, Scott got a call to play in Sir Tom Jones' band, alongside Robbie McIntosh and Pink Floyd drummer, Gary Wallis. The blues, rock n roll and gospel orientated set allows Scott to call on his early influences and travel the globe, recently completing the fifth year of working with Sir Tom. Performances so far have included five European tours, three tours of the US and South America, and tours of Australia and the Far East, as well as TV appearances including Later… with Jools Holland and TFI Friday, and playing New Orleans Jazz Festival in 2019.
In 2016, Scott travelled to the Fender factory in Corona, California, to meet with Master Builder, Dale Wilson. Dale designed and built a replica of Scott's distinctive 1962 Fender Strat - a process which took around a year to complete, when the finished guitar was shipped across the pond to Scott.

Scott founded his own band, Rufus Black, in 2017, with UK blues/soul singer Gavin Conder, guitarist Ben Jones, and drummer Russ Parker. Their debut album, 'Rise Up', influenced by British Blues bands like Cream, Free and The Faces, was released the same year and was met with critical acclaim. The band have since seen their following grow and have been packing out venues and festivals across the UK and Europe.
Early 2018 saw Scott playing with one of his musical heroes, Eric Clapton, as part of the house band for an annual charity event (also featuring pianist Paddy Milner and guitarist and singer Marcus Bonfanti of Jawbone), Paul Jones and Friends, which also saw performances from Van Morrison and Sir Tom Jones.
In 2019, Scott joined Schiller, one of Germany's biggest electronic artists, for his 'Morgenstund' tour, playing 15 arena shows all over Germany. Later that year, Scott joined guitarist and singer Doyle Bramhall II's band for part of his European tour for shows in Sweden and Denmark. Scott has also been part of John Illsley from Dire Strait's live band for the past 3 years, and features on John's latest album, 'Coming Up for Air'.
Scott's third album, 'New Morning' out April 23 2021,is an earthy, raw, guitar-lead record, showcasing Scott's range and ability as a guitarist. The album was recorded live in the studio at RAK in London, capturing the energy and spontaneity of the sessions, and was produced by Paul Stacey (Black Crowes/Oasis), and features Jeremy Stacey (Sheryl Crow/Tal Wilkenfield) on drums, Rocco Palladino (Tom Misch/ D'Angelo) on bass, and Gavin Conder (Rufus Black/The Kondoors) as vocalist on several tracks.
The first single 'Third Eye Witness' released in February 2021, has already made it onto Spotify's 'Modern Blues Rock' playlist alongside international artists including The Black Keys, Alabama Shakes, Kurt Vile and Gary Clark Jr.
More recently, Scott has been working in a producing role with other artists, with albums due for release later in 2021. You can also catch Scott performing live with his own 'Superjam' group comprised of some of the UK's top musicians.
Scott has also a signature fuzz pedal and signature pickups, modelled on his '62 Strat.