REGGAE WEEKENDER TICKET - Easy Star All-Stars & Katchafire
with
Indubious
,
Special Guest: TBA
Sat 12th Aug 2023
Doors:

7:30 pm

/
Show:

8:00pm
(Showtimes Approx)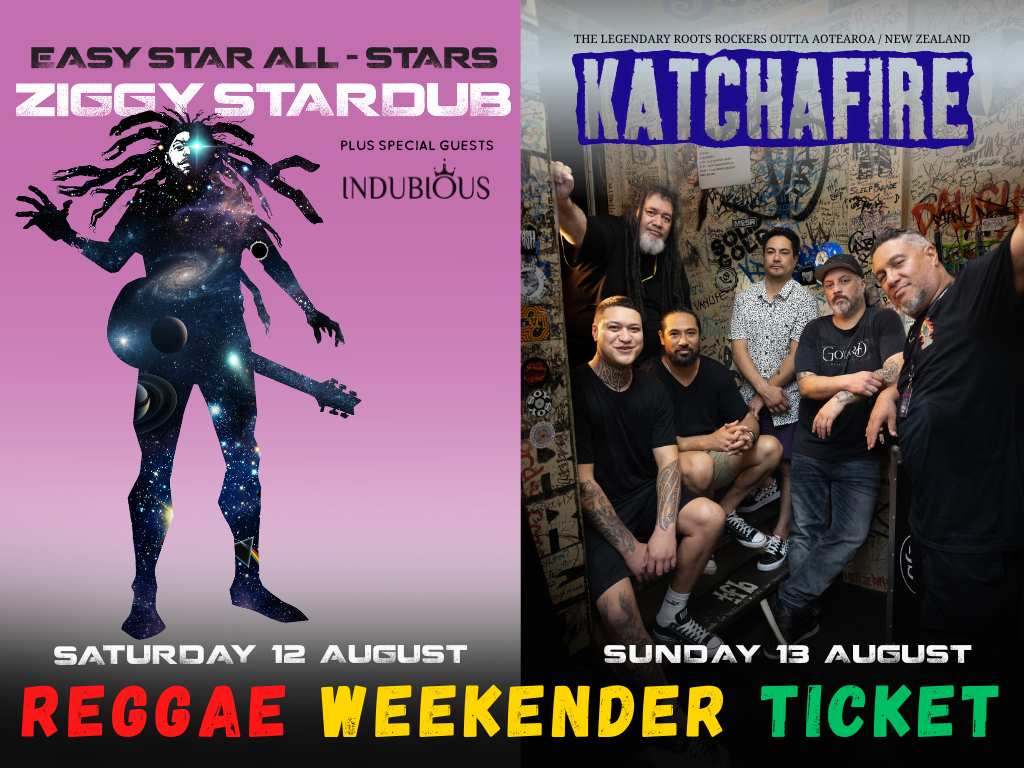 Early Bird Deals To Be Grabbed
Saturday 12 August
- Doors:19:30 -
Easy Star All-Stars
+ special guests Indubious
Sunday 13 August
- Doors:19:30 -
Katchafire
+ special guests TBA
Easy Star All-Stars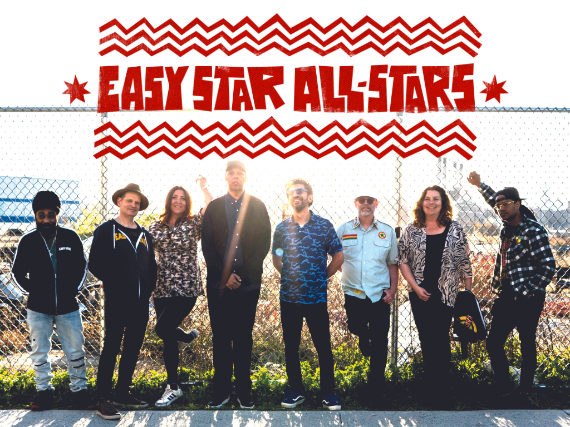 US reggae group Easy Star All-Stars return to the UK for a run of festival and club shows in August 2023 celebrating the release of their newest album, a re-imagined rendition of David Bowie's classic The Rise and Fall of Ziggy Stardust and The Spiders from Mars, aptly entitled Ziggy Stardub.

Blending musical versatility, instrumental prowess, beautiful vocal harmonies, and a premier rhythm section, Easy Star All-Stars have established themselves as one of the top international reggae acts on the scene for over two decades. During this time, they've toured in over 30 countries on 6 continents, bringing together fans of reggae, classic rock, dub, and indie rock into one big family.

Their new album out April 21 via Easy Star Records features guest performances by Macy Gray, Steel Pulse, Fishbone, Alex Lifeson (Rush), Vernon Reid (Living Colour), The Skints, Mortimer, The Expanders, Samory I, Naomi Cowan, and many others.

Since revealing the next tribute album in January, the group has shared first tastes of the project with a few singles, including "Starman," featuring vocals by the Grammy-nominated reggae star Maxi Priest. First shared by Rolling Stone, the All-Stars and Maxi Priest put their signature twist on the beloved hit, making use of reggae drum patterns and vocal styles as they reforge Bowie's work into a fresh piece of danceable reggae fusion. That was followed in February by "Moonage Daydream," which featured vocals by Naomi Cowan and a searing guitar solo by Alex Lifeson of Rush. March 22 sees the release of "Five Years," with vocals by Grammy-winners Steel Pulse.


Previous releases of the band's long-standing collection of tribute albums include Dub Side of the Moon (2003), a critically acclaimed reggae re-working of Pink Floyd's Dark Side of the Moon; Radiodread (2006), which gave the treatment to Radiohead's OK Computer; Easy Star's Lonely Hearts Dub Band (2009), a reggae version of The Beatles' Sgt. Pepper's album; and a re-imagining of Michael Jackson's landmark 1982 album, titled Thrillah (2012). The group has also released a remix album, Dubber Side of the Moon (2010), along with two original collections, Until That Day (2008) and First Light (2011).
Indubious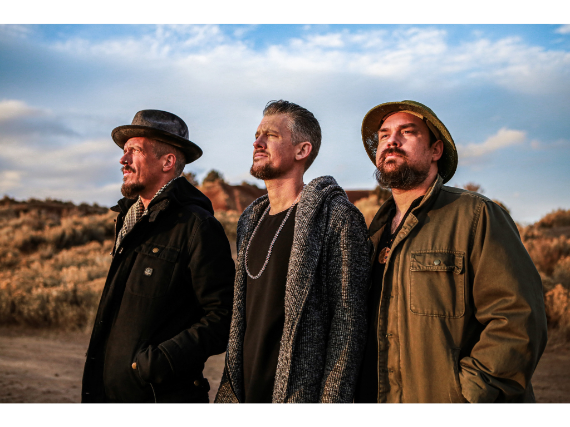 The story of Indubious is not for the faint of heart. Like a phoenix rising from the ashes, Indubious was forged in the fires of pain and destruction. Evan and Skip, brothers and bandmates born with Cystic Fibrosis and convinced by doctors of their impending death from an early age, have emerged as powerful forces for change and the future of conscious music. Joined by drummer Matty Narmis, the trio is armed with impressive instrumental skill, powerful 3 part harmonies, an electrifying stage presence , and a spiritual message that has captivated audiences worldwide. Their unique blend of transformational reggae, dub, electronica, and progressive improvisational jam creates the sonic tapestry upon which their spiritual message is delivered. Inspiring trust in a higher power, self love, and a deep unshakable faith in the human spirit, Indubious requires a shift in perspective from their listeners; to set down fear and doubt in order to enter that state of "Living Indubiously".

Currently based in Oregon, Indubious has released six albums over the past few years, including The Bridge which was released through Easy Star Records and features guest artists Sizzla, Capleton, Mike Love, Anthony B, Jah9, Zion I, Wookiefoot and more. Their previous album Beleaf, released summer 2019, debuted at #1 on the Billboard Reggae Chart and #2 on iTunes Reggae Chart. All songs were written, produced, and engineered by Indubious, and 5 of their albums are released on their own label, Righteous Sound Productions.

In November of 2022 Indubious released their documentary "Mystic Vibrosis - A Guide to Living Indubiously", available on Amazon Prime, Apple TV, Google Play and more. The doc goes into the trials and tribulations of their unique story, their childhood and diagnosis with Cystic Fibrosis, Evan's double lung transplant procedure in 2011, Skip's life being saved by a new wonder drug released in 2019, and the family of Evans lung donor who was tragically murdered in 2011.

The band and their legion of loyal fans have adopted the motto "Live Indubiously," which means living life without doubt or fear, and with faith in the fact that we are all here for a reason. "Our gift is music," says Indubious, "and our mission is to reconnect the people of the world with rightful living. We wish to speak the truth in an effort to inspire others to do the same, to raise the positive vibrations of our planet, and to help others express the true loving nature within us all."
...

"For me, that's one of the most original, refreshing pieces of reggae music I've heard in a long time. I think it's really special." David Rodigan on BBC in regards to the song "See Sharp"

"Simply put, Indubious is my favorite band of 2017, and From Zero is my favorite album of 2017 - and it truly deserves to be yours too." review by Russel A. Trunk via annecarlini.com
Katchafire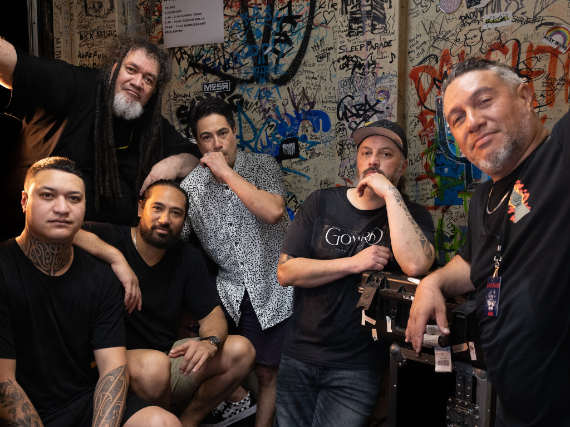 Hailing from Kirikiriroa in Aotearoa (Hamilton in New Zealand) KATCHAFIRE have become a global roots reggae phenomenon with the all-Maori band bringing their pure classic sound to music lovers worldwide delivering one of the most authentic Reggae shows around.
With six successful albums, multiple awards, platinum sales, hit singles, and a massive fanbase selling out shows around the world, 2023 sees KATCHAFIRE continue to expand and tour all across the globe again.

Their sound is built on the foundations of classic roots reggae with an R'n'B and funk rub, fusing modern dancehall and with catchy pop, infectious grooves and uplifting vibes.
Built on a family movement, it all started when lead guitarist Grenville Bell, father of lead singer Logan Bell & drummer Jordan Bell, moved into an apartment building in town with his then teenage sons where they could make music all night, and the rest is history...
After countless jams and sold-out concerts, they swelled to an 8-piece collective of multi-talented songwriters and musicians and became a staple on Pacific Roots scenes around the world.
KATCHAFIRE's popularity and critical acclaim has seen them share the stage with artists from Damien Marley, Steel Pulse, UB40, The Wailers, to Michael Franti and Spearhead and many more. They've garnered respect from the likes of Don Letts (acclaimed documentary maker and Clash tour DJ), music journalist David Katz, and have been championed on the airwaves by radio legends such as Steve Barker (BBC), Charlie Gillet (BBC) and David Rodigan (Kiss FM and others) to name a few. Through the height of the Covid19 pandemic KATCHAFIRE spent time in Aotearoa studios recording new music and now look forward to their first overseas shows since the pandemic began. Katchafire have long been prolific international tourers and 2021 was the first year the band did not tour overseas in over eighteen years.
Not resting on their laurels whilst international borders were closed, Katchafire released two new singles "Circle Back" and "Whaingaroa" as well as re-releasing their "100" single from the Legacy album in Te Reo (M ā ori language) as part of the Waiata / Anthems documentary series –
"Karawhiua". They released their latest single "Always With You" at the end of 2022. Last year saw the band finally 'back on the road again' with tours to Australia, Europe, USA, Canada, South America & Bali and in 2023 the band are only looking to continue!.
There is no stopping the 'Fire!!
"And as I sit here with my Bose headphones wrapped around my head there's a party going off between my ears as this amazing band from "The Land Of The Great White Cloud" rocks steady and I wonder if the majestic islands nick-name refers to a weather occurrence or the fact they must have some realy irie Kaya down under. Somewhere Bob Marley is bobbing his natty dread head up and down dancing to "Legacy" stoked on the riddim's he has inspired his spawn like Katchafire to bring forth to the world." Eastern Surf Magazine, USA

"the musicianship and stunning playing on this album are so superb. Years of touring have pushed this band beyond a simple party crew elevating them to the highest level. Every song on this album is an instant classic. This band is and will continue to be revered taonga." 13th FLOOR Magazine, New Zealand

"In LEGACY, Katchafire manages to combine a wealth of influences into something unexpectedly singular, making the album a wonderful discovery while challenging expectations within the songs themselves, which will impress longtime fans or first-time listeners." Top Shelf Reggae, USA

"What I love about the fifth KATCHAFIRE album LEGACY is that whilst sticking heavily to their reggae roots they also
seamlessly blend genres like RnB, Jazz, Pop-rock, Big-Band, disco, funk and Soul throughout only 12-tracks.
This album showcases how incredibly versatile these guys are and I can only imagine what a live show would be like......" Amnplify Mag, Australia

"The band has matured into one of the most cherished, original live reggae bands in the world."
THE BRAG (Australia)

"They were smiling and dancing on stage in such purity that you couldn't help but move your body. Everywhere I looked people were dancing… it was impossible not to get pulled into the jams." SHOWSIGOTO.COM (USA)

"Katchafire just keep coming up with goods. Their songwriting ability over the years has become second-to-none and time has allowed them to develop older songs to a point of perfection." ARTSHUB (Australia)

"The crowd reaction indicated that almost every song played was a crowd favourite in itself."
FASTERLOUDER (Australia)

"The band's energy was consistently through the roof, making it impossible not to get lost in the music. They had everyone in the room skanking to the riddims (or at the very least, bobbing their head to the beat)."
TOPSHELFREGGAE (USA)

Special Guest: TBA