Roachford
Fri 27th Oct 2017
Doors:

8:00 pm

/
Show:

8:00pm
(Showtimes Approx)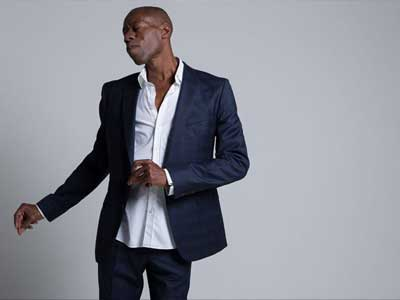 Welcome Return
£15 Adv / £17 Door
Cultured pop outfit lead by singer Andrew Roachford, 30 years in the business yet still best known for early hits 'Cuddly Toy' and 'Family Man'.
Roachford
Long overdue return for this cultured pop singer songwriter who gave a brilliant show last time. Best known for hits 'Cuddly Toy', 'This Generation' and 'Family Man', Andrew Roachford is a great live performer.
Ever since bulldozing his way onto the scene with unforgettable tracks like 'Cuddly Toy' and 'Family Man' in the late 80s, Andrew Roachford's maverick take on music has spread far and wide. As the first artist to sign a staggering seven-album deal with Columbia Records, it heralded the beginning of something big. "Getting signed and being a black British artist gave me a sense of pride" enthuses Andrew.
Like any artist worth their salt, Andrew Roachford's music is the result of many things. Raised in south London to West Indian parents, as a child of the 70s and 80s, it's no wonder that his music sounds the way it does. Influenced by everyone from Al Green, Michael Jackson to David Bowie Andrew's formative years were also spent listening to Radio One, reggae and jazz. Pinpointing the beginning of his musical career as a child he vividly remembers being mysteriously drawn from his bed to play the piano in his living room. "There was always a piano in the house and I just got up and started playing even though I'd never played before. There was something quite surreal and magical about it." Looking at Andrew Roachford's family history, though, it shouldn't come as any surprise.
Born into a musical dynasty, his uncle Bill Roachford was a virtuoso saxophonist. The musical ball really started to roll however, when Andrew hit the road with his uncle. Playing gigs on the jazz circuit in those days, gave him a good grounding for things to come. "I got lucky enough to start gigging when I was about 14. I was in the middle of that whole jazz scene which was an interesting education. It taught me musically, how to listen and how to entertain. My uncle always told me that you had to give people a show."
Andrew was Columbia's biggest selling domestic act for over ten years. As if any more proof were needed, the fact that Andrew Roachford has been approached by such luminaries as Michael Jackson and Chaka Khan to write songs, speaks volumes.
Andrew's trademark has become his rare ability to put into words, feelings you didn't even know you had, "It's one of the reasons why I make music; to bring out those things that people feel, but haven't always got a voice for. I like to bring the inner person to the forefront". And over the year's, anthems like 'Lay Your Love Out On Me', 'Naked Without You' and 'Complicated' to name but a few have done just that.
"I'm always pushing myself as an artist. When it comes to songwriting, I naturally gravitate to digging deep. That's how it works for me". With Platinum and Gold selling albums, a career that spans two decades, and the last five years seeing him writing and singing on everything from top-five selling international dance tracks to co-writing and touring with Mike and the Mechanics, Andrew is undeniably a prolific and unique talent.
With his latest offering Andrew delivers a deeply honest and powerful album. He is back doing what he does best – taking the daily challenges of life and love and helping the rest of us make sense of it all. "You start off being what you're not in life and then the path has this uncanny way of bringing you back to who you really are. Life is really just a journey back home".
Rothwell
Rothwell, a young British singer-­songwriter from Bristol ready to make her mark on the music world, with her sultry and rich voice. Following her debut EP release last year, Rothwell was awarded 'Best Record' at The Unsigned Music Awards.
Her latest single 'Love Any Longer' was released last month and received support from Spotify & BBC Introducing. The track is produced by Hugh Worskett (Will Joseph Cook, Birdy). Rothwells next single Voodoo' will be available on all platforms on 11th August.
In 2016 Rothwell supported Paul Simon on his European tour and Justin Bieber on his UK Arena Tour. Rothwell wrote & features on Metriks (Hospital Records) single 'We Got It'. The track was released earlier this year and received support from Radio 1 & 1Xtra.
Rothwell is confirmed for British Summer Time, Isle of Wight Smoked & UnCut, Hope & Glory, LemonFest & Cornbury amongst others this summer.
"Her distinct, rich tones, and quintessentially British sound has meant each track she releases or features on is characteristically hers and its got us excited about her upcoming projects"
Notion
"a wonderful piece of songwriting, all maturity blossoming and potential illuminating."
Clash
"On our radar as a 'one to watch' this summer"
1883 Magazine
Fønx
"Great playing, great singing, great writing. Definitely bound for succsess."
6 Music's Tom Robinson
"Largely self-taught, his worknestles between the margins of R&B and pop, hip-hop and electro, all while treading its own path."
Clash Magazine
"…relentless pace built around shimmering guitars and thumping percussions, with a vibey, funk-ish aftertaste…"
Going Solo
British artist, songwriter and producer FØNX has released his brand new single 'Can't Get Enough', which was produced by Grammy award-winner Tommaso Colliva (Muse).
FØNX explains, "'Can't Get Enough' came about whilst I was homeless and sofa surfing for a couple of months and after a very colourful twenty hours, I found myself writing initial ideas for the song".
Drawing influence from the likes of Kanye West, Childish Gambino, Frank Ocean, D'angelo, John Mayer and Tame Impala, FØNX delivers R'n'B-infused pop with jazz, funk and soul influences, merging catchy grooves, memorable hooks and intricate guitar licks with inspired lyrical content.
Coming from a musical background FØNX started learning guitar at the age of seven and was soon introduced to rap and hip hop, sparking his enthusiasm to start writing lyrics and create backing tracks from samples.
FØNX continued experimenting with music and film during a number of years of homeschooling and soon enrolled at the Brit School where he studied music.
Since leaving, FØNX has continued writing and producing his music at home, on trains, buses, in coffee shops and backstage before shows, constantly coming up with ideas for melodies and lyrics wherever he went. Playing the live circuit around London and the South East he has also performed at various festivals including Barn on The Farm, Cornbury Festival, Isle Of Wight Festival and Leefest.
FØNX is busy working on brand new material and collaborations. 'Can't Get Enough' indeed!