An exclusive warm up event for Roger Chapman Tour
Roger Chapman - Family & Friends
Tue 9th Jan
Doors:

8:00 pm

/
Show:

8:00pm
(Showtimes Approx)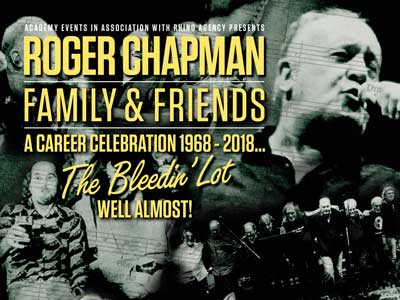 The best of Streetwalkers, The Shortlist & Family
£22.50 Adv / £26 Door
​Highly regarded as front man to Family, Streetwalkers and the hit single Burlesque, Roger Chapman joins us at The Brook for a very special evening, warming up for his 2018 Arena tour and joined by a fine selection of his musician friends and family.
With a career spanning over thirty years, this man shows no sign of slowing down, his voice sounding better than ever. Chapman remains a truly original singer, songwriter and performer who today is still regarded as an icon of British contemporary rock music.
Roger Chapman
Roger Maxwell Chapman, known as 'Chappo' by his legions of fans was born and brought up in the East Midlands city of Leicester, a hot bed of musical talent in the UK during the mid to late 1960's. The early days of Roger's musical career started when he joined The Farinas in 1966, a band started at Leicester Art College in 1962. The original line up of the band consisted of John 'Charlie' Whitney, Tim Kirchin, Harry Ovenall and Jim King. Ric Grech replaced Kirchin on bass in 1965 and Roger Chapman joined the following year on vocals. They briefly changed their name to The Roaring Sixties and when seeing the band live American record producer Kim Fowley suggested that because of their love of wearing double-breasted suits when on stage had given them a Mafia style appearance, they ought to be called The Family. After this comment the band soon decided to abandon this look in favour of a more casual appearance and to shorten the band name to Family and so the legend was born. With Roger`s characteristic vibrato and dynamic on-stage presence Family could do no wrong. A move to London heralded the release of the single Scene Through An Eye Of A Lens, released on the Liberty label in 1967 and now a collector`s item, this being a pre curser for their seminal debut album MUSIC IN A DOLLS HOUSE. Released in 1968 the album was an intoxicating mix of musical styles; blues, folk, jazz and what was soon to be labelled 'psychedelia'. The bands heady mix of soul and funk mixed with a healthy dose of rock soon won them fans world wide including legendary BBC radio presenter the late John Peel who had championed their cause from the very start. Until 1973 Family and most prominently the unique vocal delivery of Roger Chapman had an illustrious career, albums such as FAMILY ENTERTAINMENT, A SONG FOR ME and the classic release BANDSTAND would all find success, the later spawning the hit single Burlesque, the song getting to number 13 in the UK singles chart. The band recorded their last album IT`S ONLY A MOVIE in 1973, an album that contained excellent songs but as various band members wanted to take different musical paths they decided to call it a day, an autumn farewell tour climaxing in Leicester on October 13th at the famed Leicester Polytechnic, an emotional finale in their hometown. Not being one to sit on his laurels Roger Chapman decided to carry on song writing with ex Family band mate Charlie Whitney and their productive partnership grew into the rock driven collective known as Streetwalkers. Throughout the mid to late seventies Streetwalkers had a run of successful albums including DOWNTOWN FLYERS, RED CARD and VICIOUS BUT FAIR. In the early days the band had several former Family members appearing at different times and by the time DOWNTOWN FLYERS was recorded the hugely talented singer and guitarist Bobby Tench had joined the ranks bringing a much needed stability to the Streetwalkers line up. The band became highly distinctive, mixing syncopated funk with a hard rock edge, their career climaxing with the live double album, simply entitled STREETWALKERS LIVE, their raw live sound captured perfectly including renditions of their signature song Dice Man, taken from VICIOUS BUT FAIR and an exultant version of the Family favourite My Friend The Sun. Sadly once again, despite a hugely successful tour of the United States, Streetwalkers never received the transatlantic acclaim that they deserved, management difficulties ensued and Chapman and Whitney decided that the end of their creative partnership was in sight and made the decision to go their separate ways.
It was now 1978 and Roger then decided to embark on a solo career, a career that would prove extremely successful and indeed still is today. His first solo offering was CHAPPO, released in 1979 to critical acclaim. Never one to follow fashion or to look like a rock star, Roger appeared on the front cover wearing a red boiler suit under the guise of an Otis lift engineer. The album was a collaboration with David Courtney and featured several songs that would become and indeed still are firm crowd pleasers such as Moth To A Flame and the glorious Who Pulled The Night Down. Roger also paying homage to legendary American songwriter the late Tim Hardin with a superb cover of Hang On To A Dream. Touring the UK in 1979, both the fans and press enthusiastically received Roger`s brand of rock infused R&B, Roger Chapman was back and performing better than ever. At this time in the UK the punk movement was at its height and the British music establishment would rather spend their resources on the latest fad or fashion that support a veteran rock singer from the sixties who had never been one to follow the crowd or indeed the latest musical trend and quality material from established artists gave way to a plethora of new young acts that would grace the pages of the UK music press.
The rest of Europe on the other hand was a different matter, a chance meeting in Hamburg with a group of like minded musicians led him to appear on the renowned German TV rock show Rockpalast, a show that went out to over fourteen countries with a combined audience of over twenty five million, Roger was reborn and the fire reignited. A top flight backing band helped Roger release the single Let`s Spend The Night Together and soon his version of the Rolling Stones classic hit was also a hit for Roger Chapman, rising high in the German charts and once more the name of Roger Chapman was to stir interest and acclaim in the music press. The album LIVE IN HAMBURG followed in 1979 and was released both in Germany and England and featured such notable guest musicians as Tim Hinckley and Mel Collins. Included on the album was a cover of the Micky Jupp penned Shortlist which was soon to become a live favourite with fans and was also to become the name of Roger`s backing band. This was the album that would launch an extremely successful solo career, a string of releases followed including MAIL ORDER MAGIC, HYENAS ONLY LAUGH FOR FUN (an album that was to see ex Family band mate John Wetton return to the fold) and HE WAS, SHE WAS, a double live album that once again featured keyboard maestro Tim Hinckley and other famed British musicians such as saxophonist Nick Pentelow and guitarists Geoff Whitehorn and Steve Simpson, Steve & Geoff still appearing live with Roger today. These musicians all helping to produce what has become one of the most vibrant live albums of its kind ever recorded. At the 1981 German music awards Chapman was voted Best Singer, HYENAS ONLY LAUGH FOR FUN also winning an award. Two years later a lead vocal on Mike Oldfield`s 1983 hit Shadow On The Wall also adding to Chapman`s diverse repertoire. Before the decade was out Roger released one of his finest albums ever. WALKING THE CAT is an album steeped in that great British rock tradition of making a studio recording sound live. Released in 1989 the release staying in the German charts for three months and with Alvin Lee, Micky Moody and Bobby Tench some of the finest musicians in the world as guests, Roger Chapman was back where he belonged, at the top. Songs such as Son Of Red Moon, Come The Dark Night and Hands Off all showing a songwriter and performer at the top of his game. Released in 1990 HYBRID AND LOWDOWN featured three current members of the Shortlist line up namely Steve Simpson, Ian Gibbons and John Lingwood along with musicians such as once again Bobby Tench, Henry Spinetti, Micky Moody and Tim Hinckley, Tench co writing Cops In Shades with Chapman for the album. The early nineties would see the release of two compilation albums KICK IT BACK and KING OF THE SHOUTERS and then in 1996 an album of new material entitled KISS MY SOUL was released and showed a return to form for a performer who had never really been away. A vibrant, exciting release that returned to the winning formula of mixing rock, soul, funk and R&B and when combined with that signature barbed wire and wine 'Chappo' vocal delivery sounding better than ever, the album receiving acclaim both in the UK and all over the rest of Europe.
Now enjoying a very successful solo career, 1998 saw the release of another fine studio album. A TURN UNSTONED featured not only the usual array of guest musicians but also centred on the nucleus of the then current Shortlist line up of Steve Simpson, Ian Gibbons and Laurie Wisefield. That would also be the year that Roger Chapman and the Shortlist made a welcome return to appearing on the Easter Rockpalast show broadcast all over Europe from Germany. Fans were now eagerly awaiting a live recording and in 1999 their patience was rewarded with the release of the double live album IN MY OWN TIME-LIVE. This was the album fans had been longing for, live versions of favourite tracks such as In My Own Time, The Weavers Answer, Son Of Red Moon and Stand Up all sounding fresh and vibrant, Roger Chapman could now only go from strength to strength.
At the turn of the new millennium Roger was soon back in action performing live with the Shortlist of which two shows formed the basis of ROLLIN` AND TUMBLIN`, released in 2001 this was a collection of twelve live tracks recorded both at the Borderline in London and the charmingly named venue Hell in Norway. Renditions of classic cuts such as Kiss My Soul, A Stone Unturned and the all time Family favourite Burlesque all showed that with a career now spanning over thirty years Roger Chapman showed no sign of slowing down, his voice sounding better than ever. In 2007 Roger returned to the studio with old pals and associates such as Steve Simpson, Micky Moody, Bobby Tench and Max Middleton to record ONE MORE TIME FOR PEACE. With Jim Cregan in the producers chair and ten original songs plus an outstanding rendition of Jerusalem on offer, this was a truly outstanding release, an album that would introduce the name of Roger Chapman to a whole new generation of fans yet the same time keeping the old guard happy. In 2009 we had HIDE GO SEEK a superb double CD of twenty-eight tracks. At close on two hours long the album is a vast collection of lost gems, demo`s and alternative versions of tracks already featured on previous releases, some of which are over twenty years old and have never been heard before, yet still sounding as fresh now as they did when first recorded. This is a fine body of work from a truly original singer, songwriter and performer who today is still regarded as an icon of British contemporary rock music.