Hayseed Dixie
Fri 16th Feb
Doors:

8:00 pm

/
Show:

8:00pm
(Showtimes Approx)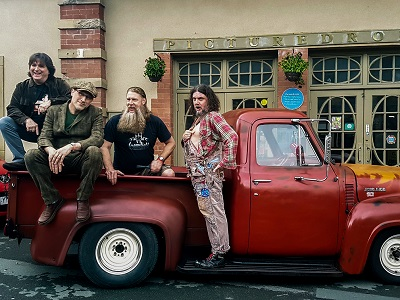 The Finest Purveyors of Rock-Grass
£18 Adv / £21 Door
​We love this band so much, we just keep inviting them back. Always a great night being entertained by this hillbilly rock band, Hayseed Dixie always deliver a hilariously raucous night of hard rock covers and original songs. It's impossible not to smile all the way through a Hayseed Dixie set!! Expect a toe-tappingly brilliant show and a live set that's impossible to forget!!
Hayseed Dixie
"The Hayseed's berserk hedonism is indeed refreshing! ★★★★★" - The Guardian
"Hayseed Dixie highlights the worth of mountain music to all things rock: energy, dirt-punk rhythm, careening harmonies and the fundamental right of all no-good fuck-ups to raise hell come Saturday night." - Uncut
"Superlative musicians with a deep love and understanding of the dynamics of both modern rock and ancient hillbilly music" - The Times
"I enjoyed this and . . . on further investigation . . . it's not good . . . it's fabulous!" – Brian May, Queen
"This is great! I can't wait to get the royalty check!" - Gene Simmons, KISS
Hayseed Dixie began one innocent Summer day in 2000 when John Wheeler and Mike Daly drank roughly enough whiskey to float a battleship from the Florida Coast over to Portugal and back and decided to play around in John's studio. Having spent the previous few years touring around with assorted country hat-acts, John had assembled a proper pile of recording equipment. Thus when he and Mike discovered in their drunken epiphany that the Lost Highway of Reverend Hank Williams and the Highway to Hell of Bishop Bon Scott were indeed the same identical stretch of tarmac, they were well and truly prepared to document this revelation in situ.
East Nashville, Tennessee in the Summer of 2000 was a proper Bohemian party place, and a few friends stopped by, drank some of John's whiskey, and played and sang on this recording here and there, as was the custom of the times. And ten AC/DC songs were suddenly reimagined and recorded forever anew, entirely reinvented as Appalachian Mountain hillbilly rave-ups. Everyone danced (oh how they danced!) around the studio room and out onto the porch and drank more whiskey. (You should have been there. Really. You should have.)
Now, functioning well as "Exhibit A" in the demonstration of how one's beginnings rarely know one's ends, Hayseed Dixie have evolved into a proper force, one that most people either love, hate, or have never heard of. There isn't really any middle ground, nor should there be. But fourteen albums - consisting of both original material and reinterpretations of previously rendered songs - and global physical *sales in excess of half a million copies, with over 1,200 live shows in 31 different countries testify: Hayseed Dixie are the undisputed creators of the musical genre, Rockgrass. There are many copycats, converts, and disciples out there. Accept no imitations.
And now, holding up their own idiosyncratic mirror to an unsettled and unsettling 2017, Hayseed Dixie offer up their 15th studio album, a collection of both original songs and reinterpretations of R&B and Soul classics. Dance with them as they probe the queries: "Why do we still believe there is such a thing as 'race'?" "Are concepts like 'nations' and 'nationality' really useful to people who lay bricks or perform kidney stone surgeries?" and "Why does every song always sound better with a banjo in the mix?" The boys are seeking after the root core categorical commonality that runs like an eternal golden braid throughout all of humanity. Then they will buy it a drink!
Emma McGrath
Emma McGrath is a 17 year old singer-songwriter heralding from Harpenden, North London. Writing her own material since the age of 12, Emma self released her first EP, The Judgement, in November 2014. This was followed up in December 2015 with the self released single Sit With Me, which caught the attention of key media including BBC Introducing who awarded it 'Track Of The Week' twice and Radio 2 where it received plays from both Dermot O'Leary and Bob Harris. Topping off a great 2015, Emma was awarded The PRS Foundation's Lynsey de Paul prize.

Over the past year Emma has been working hard building up a close network of writers who have helped to develop her craft and hone her sound. Recognising this The PRS Foundation recently awarded Emma a Women Make Music grant for the development and subsequent release of a mini album. She is now recording with several highly qualified and exciting producers including: Grammy Award winning Jimmy Hogarth, Brit School alumni Jackson and Rhiannon Mair. Scheduled for release in late Autumn 2017, the mini-album will be preceded by several singles, the first of which is slated for July.