Ultimate Eagles -Sold Out
Sat 20th Oct 2018
Doors:

7:30 pm

/
Show:

8:45pm
(Showtimes Approx)
Guilty Pleasure
£20 Adv / £23 Door
The Ultimate Eagles deliver all the goods and an excellent show. With a backlog of rave reviews siting them as the 'ultimate' and absolute consummate professionals, with vocals sounding like a golden larynx and stunning harmonies that when combined make them frighteningly close to the real Eagles.
They are a guilty pleasure that have a great rapport with the crowd making it easy to relive the memories of all the wonderful, beautiful songs.
Ultimate Eagles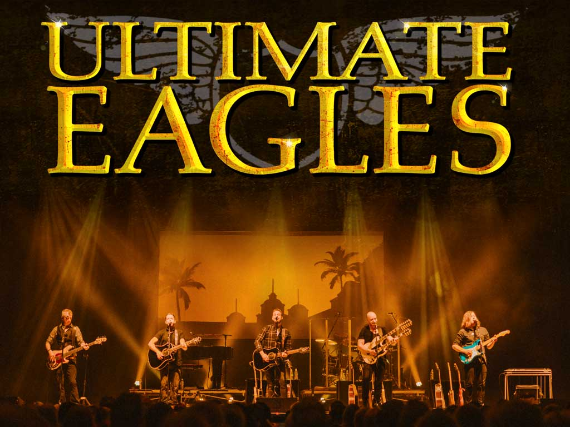 Fresh from their hugely successful 2017 tour in Europe, Australia and New Zealand, The Ultimate Eagles return once again.
Ultimate Eagles represent the history of one of the world's finest bands, performing legendary hits and newer favourites.
No show in the world recreates the American Legend's music with such accuracy and reverence as the Ultimate Eagles, and their 10,000,000+ online media views stands as a testimony to their international popularity and coveted status as
"The World's Greatest Eagles show."
Performing live rarities and best selling classics, the show delivers the Ultimate in live Eagles experiences, presented by world class musicians who have spent entire careers at the highest level appearing alongside artists such as Queen, Iron Maiden, Status Quo, Journey, Van Morrison, The Royal Philharmonic Orchestra, Stevie Wonder, Paul McCartney, Ringo Starr, Cliff Richard, John Legend and of course... the Eagles themselves.
"The Greatest Eagles Show in the World" - Chris Evans BBCR 2 "Sensational!... Not a tribute band, these are real musicians with real talent" - Daily Mail ______________________________________________________________________________________
Continuing their huge success in Europe, Australia and New Zealand, The World's finest Eagles experience return.
No show in the world recreates the Eagles' music with such accuracy and reverence as the Ultimate Eagles, and over 10,000,000 online media views stands as testimony to their international popularity and coveted status as... "The World's Greatest Eagles Show."