Mused
Sat 30th Mar
Doors:

7:30 pm

/
Show:

8:00pm
(Showtimes Approx)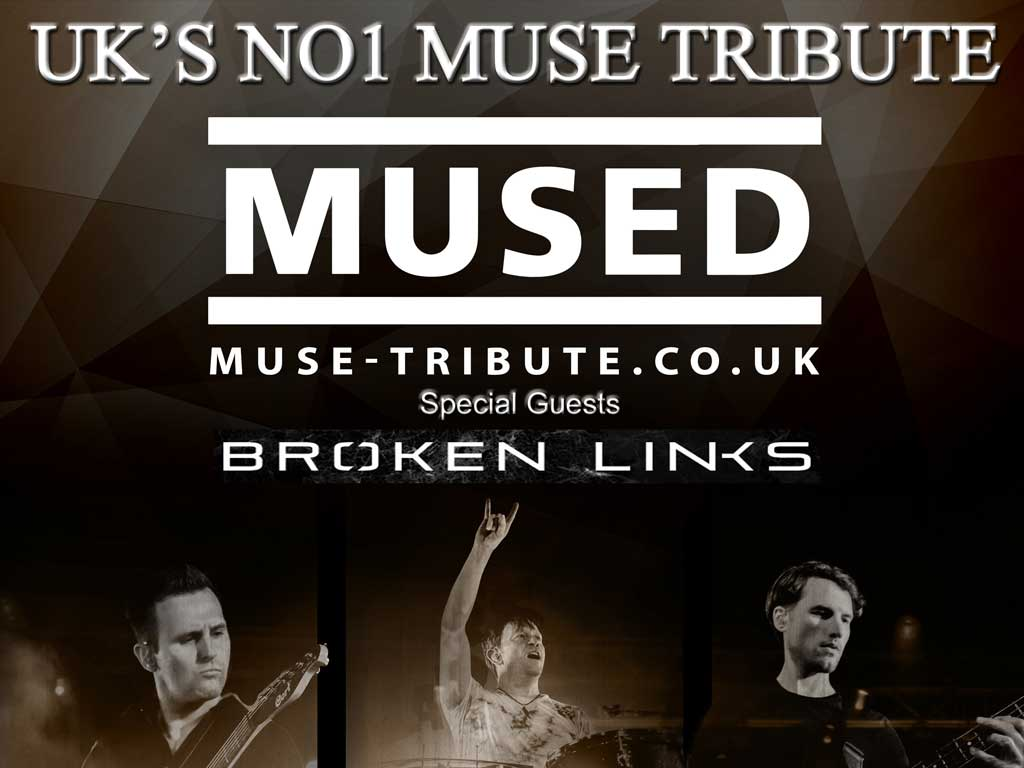 Alternative Rock, Space Rock, Progressive Rock
£10 Adv / £13 Door
​Alien invasion, ouija boards and supermassive black holes ~ few bands can rival Muse for eccentricity, excitement and, let's face it, downright weirdness. Now 'Mused', our brilliant tribute to them, have encapsulated all the thrill, shock and entertainment you'd want from seeing Muse live. This is set to be a roof raising gig!!
Mused
Mused are a UK based professional tribute act who excel at providing an authentic Muse concert experience. Muse themselves now rarely perform at anything smaller than arena capacity, and Mused offer the opportunity to get up close to the action!
We accurately recreate all of the favourite Muse tracks, and like Muse, rather than playing them exactly like the studio recordings, we perform all the extra bits including the "improv" parts in-between songs just as Muse do when performing live, thus creating a true Muse live experience! From the moment the show opens to the encore you will believe you are listening to, and watching Muse themselves!
The band's set list compiles songs from across all Muse's studio albums, from
Showbiz to Simulation Theory. The current set list currently consists of:
· Bliss
· Can't Take My Eyes Off You
· Citizen Erased
· Dead Inside
· Feeling Good
· Hyper Music
· Hysteria
· Knights of Cydonia
· Madness
· Mercy
· Muscle Museum
· New Born
· Panic Station
· Pressure
· Plug in Baby
· Psycho
· Reapers
· Resistance
· Starlight
· Stockholm Syndrome
· Supermassive Black Hole
· Supremacy
· The Handler
· The Small Print
· The Dark Side
· Thought Contagion
· Time Is Running Out
· Undisclosed Desires
· Unintended
· Uno
· Uprising
You can rest assured your Muse experience is safe in our hands!
More information, tracks & video's can be found at http://www.Muse-Tribute.co.uk
Broken Links
Playing industrial rock with under-currents of post-punk and new wave, aka Death Electro, Broken Links are as melodic and hook laden as they are dark and haunting. Atmospheric guitars, melancholic vocals and electronic soundscapes form a musical vehicle for psychoanalytical and emotionally complex lyrical themes, resulting in a dark and powerful aural experience.
Originally taking influence from an array of acts ranging from Joy Division, Depeche Mode, and Nine Inch Nails to Manic Street Preachers and Bush, Broken Links have evolved a sound that's very unique to themselves and unlike anyone on the scene today.
Broken Links have built a strong loyal fanbase following the release of three EPs, two album's, and playing shows with the likes of British Sea Power, The Boxer Rebellion, InMe, My Vitriol, Chameleons Vox, and 22 in the UK, Germany, Austria, Belgium, Czech Republic, and Italy.
Broken Links are currently working on their highly anticipated 3rd album due for release in 2019!