30th anniversary of "...But Seriously"
No Jacket Required
Fri 29th Nov 2019
Doors:

7:30 pm

/
Show:

8:30pm
(Showtimes Approx)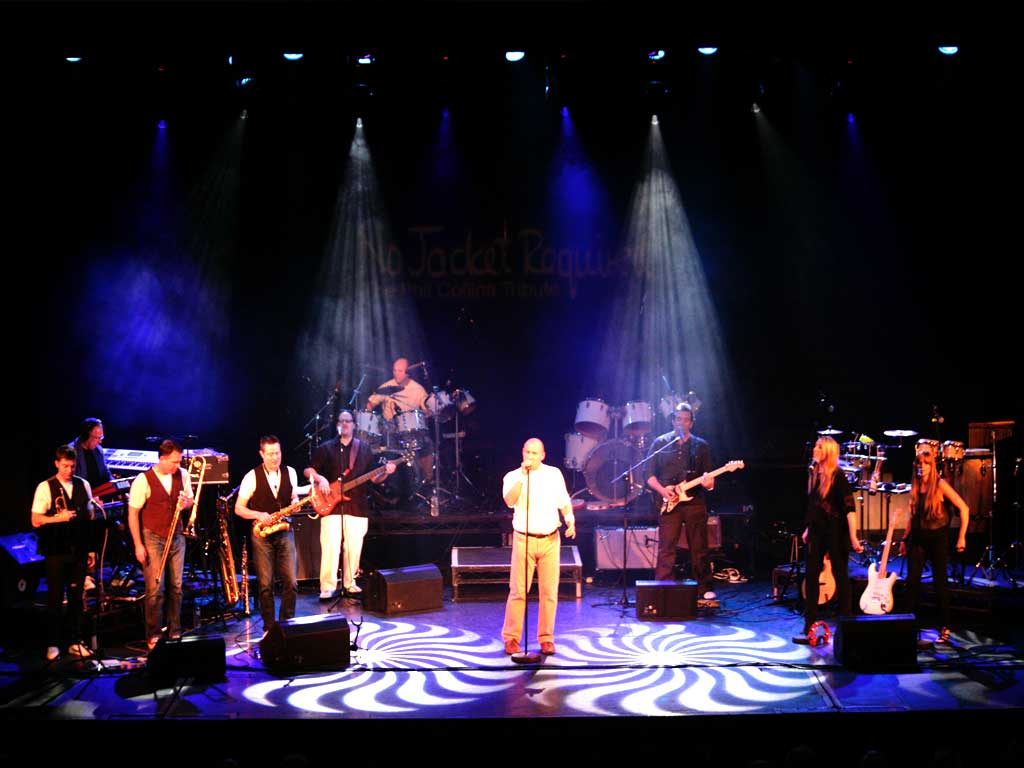 Brilliant Phil Collins Tribute
£14.50 Adv / £17 Door
Performiong the whole album '...But Seriously' in the first part of the show and the 'best of the rest' in the second half. If you are a fan of Phil Collins then don't miss this one. Free air drum kits are available behind the bar for those that don't mind looking like a fool!
No Jacket Required
Phil Collins is one of the most successful recording artists of all time – a string of worldwide number one albums and singles resulted in multi-million sales and a succession of prestigious music industry awards during his 40-year career. In fact, Collins is one of only three artists to have sold over 100 million albums as a solo artist and as part of a band – the others being Sir Paul McCartney and Michael Jackson.

This autumn, No Jacket Required – the UK's most established Phil Collins tribute – will be performing an album which proved to be one of the biggest-selling albums of all time. '…But Seriously', released 30 years ago in 1989, topped the UK album charts for 15 weeks and today ranks as the 39th biggest-selling album in UK chart history.

The album followed the huge success of 'No Jacket Required' in 1985, Phil's appearance at Live Aid the same summer, and the subsequent 10-month world tour to support the number one Genesis album 'Invisible Touch'. So when in 1989 Phil Collins released his fourth solo album, '…But Seriously', there was enormous interest and anticipation – and it didn't disappoint.

Featuring guest appearances by Eric Clapton and Steve Winwood alongside long-time Genesis collaborator Daryl Stuermer, '…But Seriously' spawned a string of hit singles including Something Happened On The Way To Heaven, I Wish It Would Rain Down and Another Day In Paradise. "It's such a consistently strong album, and it has everything", says frontman Dave Whitehouse. "There's pop, rock, ballads, blues, jazz – and not a 'filler' track amongst them. Twelve songs, all very different - and in typical Phil Collins style, all with a tale to tell."

It is the first time in their 17-year career that No Jacket Required have decided to perform any album in its entirety. "We felt that the time was right to freshen up our show with a different approach, and the 30thanniversary of the release of Phil's biggest-selling album gives us the perfect reason to take that opportunity", says Dave. " '…But Seriously' really cemented Phil's place as a global music star, and we think the album is going to work really well as a performance piece. Not quite a concept album, but there is of course a 'serious' theme which runs through all of the songs."

No Jacket Required even follow in Phil's footsteps by raising money for homelessness, as a direct result of the biggest hit from the '…But Seriously' album. They have been supporting The Bridge Trust in West Kent for many years and recently passed the £30,000 mark for their donations. "Another Day In Paradise is a classic Phil Collins track in that it has a message which connects with the listener on a personal level, like so many of his songs", says guitarist Vic Chase. "We perform it at every show and it seemed apt for us to collect for a homelessness charity too. Phil has done so much for charity over the years and it's a cause which he is well-known for supporting." The band's brochure and merchandise will be on sale at the show, with all monies raised going to the Bridge Trust.

The new show will also feature what drummer Graham Goacher describes as "the best of the rest" in the second half of the band's performance. "It's a real pleasure and privilege to perform such great music", says Graham. "There's so much to choose from, it's hard to decide what to leave out of our shows! We will of course be playing all of the big hit singles too, along with a nod to Phil's career with Genesis ."

No Jacket Required receive great reviews whenever they play, with many saying the band are so close to the original that you can hardly tell the difference. The band are returning to The Brook by popular demand for what is an annual visit to one of the premier tribute venues on the circuit. Having sold out at theatres around the country since then, this triumphant return on their 'Serious UK Tour' will once again be one of the hottest tickets in town.

For more information on the band, visit www.nojacketrequired.co.uk or you can follow them on Facebook and Twitter ('@PCTribute')