Double Header not to be missed!!
The Mods and Butterfly Collective
Sat 2nd Nov
Doors:

7:30 pm

/
Show:

7:30pm
(Showtimes Approx)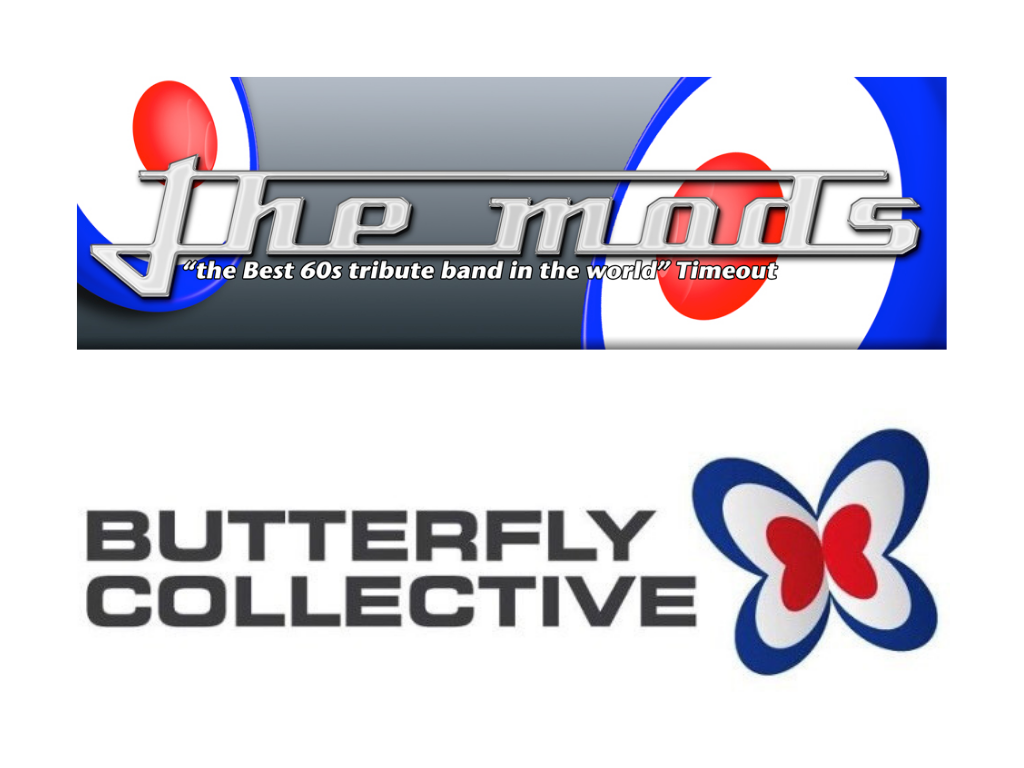 £13 Offer / £14.50 Adv
The Mods
Over the last 10 years The Mods have toured all over the UK playing to packed crowds and satisfied audiences at Theatres, clubs and festivals. They have been flown out the Mediterranean to perform on Milionaires' yachts, commissioned by and celebrities alike for exclusive private parties, The Mods were booked 2 years running for five night residencies at the exclusive 'Moods club' in Monaco. They have headlined The Harley Davidson Euro festival in Austria in 2011 as well as played several times at previous Harley events in Austria St Tropez and Silverstone.

The Mods have an excellent hard-earned reputation for delivering powerful, exciting shows and entertainment, dashed with a sprinkling of humour and full of outstanding musicianship.

Expect classics from the 60s and early seventies that encapsulate the true essence of Mod music and it's evolution through the late 60's summer of love into the heavier 70's. The Who, Small Faces, The Kinks, Toots and The Maytals, Desmond Dekker, Spencer Davies, Stevie Winwood, The Stones, Booker T and The MG's, Manfredd Mann, Yardbirds, The Animals, Willson Pickett, Arthur Conley,....this list could be endless.

Members have come and gone over the years and we are delighted to introduce Tim Huggins 'Thugg' as the new frontman. The level of musicianship and spirit of fun and entertainment has never been compromised.
The line up has worked with some of the biggest names in the industry over the years, too many to list here but to name a few:
Queen, Paul Rogers, Chaka Khan, Fish, Annie Lennox, Paul Young, Bob Geldof, Tina Turner, Pete Townshend, Deborah Harry, Rick Wakeman, Ian Dury, Bill Wyman, Steve Strange, Spear of Destiny, The Fun Lovin Criminals, Bruce Springsteen, Dave Gilmour, Foo Fighters, Elton John, Paul Young, Roger Chapman, Iron Maiden, Sam Fox, The Bonzo Dog Doo Dah Band, Midge Ure, Amy Winehouse, Leona Lewis, Jack Bruce, Kiki Dee, Steve Lukather, Ronan Keating, Mel C, Peter Gabriel, Rhino ,Toyah, Roy Wood, Judy Tzuke, Phil Manzenera, Steve Ellis, Keith Richards, Ronnie Wood, Bill Wyman, Mark King, Roger Daltry, Aretha Franklin, The Boomtown Rats, Duran Duran, Bowie, Dexy's Midnight Runners, Paul McCartney, George Michael, Voyager, Marillion, Mike Oldfield, Judie Tzuke, Joan Armatrading ,

An amazing band made up of amazing musicians:
• Tim Huggins - Vox
• Mickey Simmonds - Keyboards
• Johnny Marter - Drums.
• John Kennard - Guitar.
• Steve Barnacle - Bass
Butterfly Collective
'Butterfly Collective- played with fire, delivered with personality'

A 5 piece Mod/Ska/Soul band from the South Coast playing classic covers from the likes of The Jam, The Who, The Specials, Billy Ocean, The Stones Roses, OCS all with the power and energy of the original artists.
BC also play original self-penned tunes of a similar style from their debut album 'Wake up and smell the coffee'.