Vinilo Record Store Presents...
Sold Out - Holly Humberstone - Paint My Bedroom Black - Southampton Outstore
Fri 6th Oct 2023
Doors:

7:00 pm

/
Show:

8:00pm
(Showtimes Approx)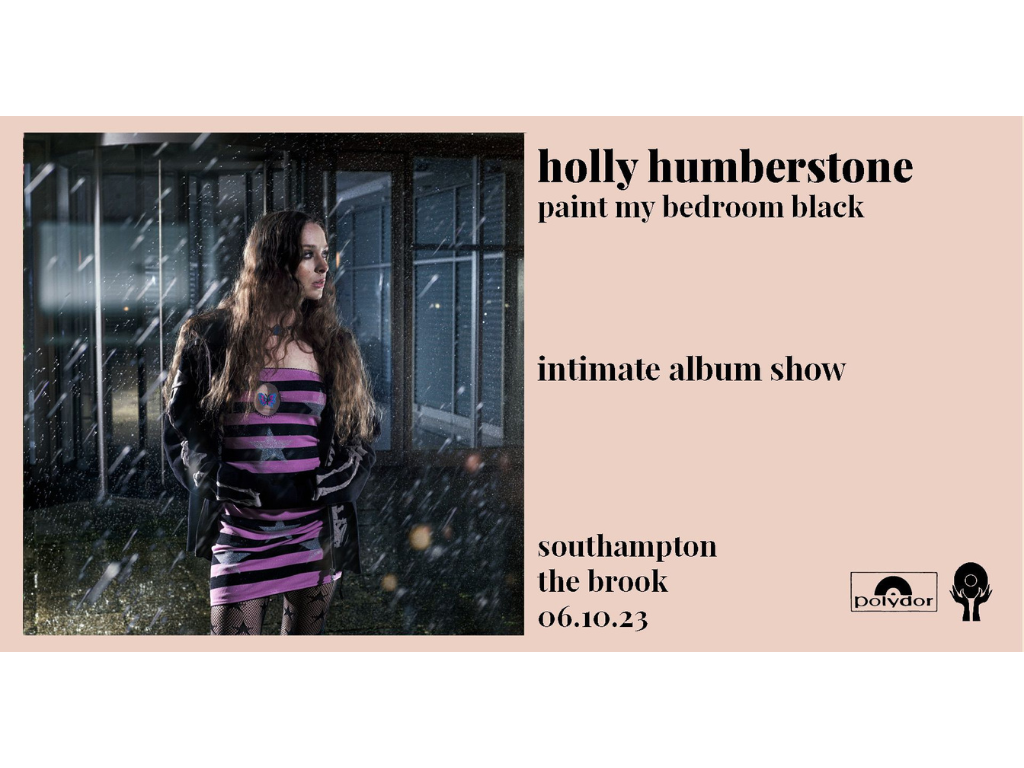 Various Packages Available
Album released 13/10/23
Holly Humberstone Album Tour
Outstore 06/10/23
On Sale Thursday 25 August 10am
Age 14+ (under 18 to be accompanied by a ticket holding adult)
Event terms and conditions here

All tickets are sold through Vinilo Records. None are sold through The Brook.

Holly Humberstone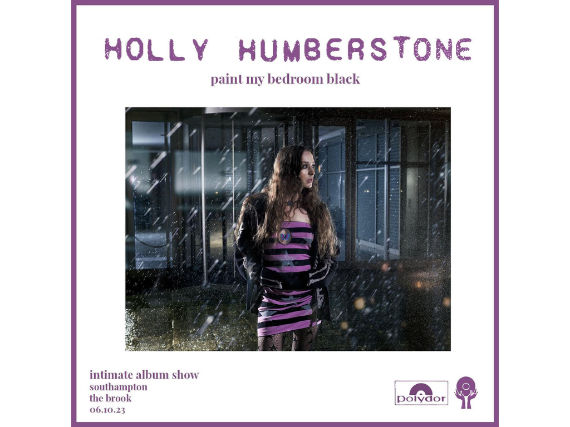 Critically acclaimed and award winning singer songwriter Holly Humberstone today announces her highly anticipated debut album Paint My Bedroom Black, to be released on 13 October 2023 on Polydor / Darkroom / Geffen. Always inspired by her environment and how that affects her sense of self and identity, from her parent's Haunted House to flatshares in London with The Walls Are Way To Thin, Paint My Bedroom Black represents Holly's coming of age, growing from unknown singer at her parent's piano to the most exciting alternative pop stars of her generation. The dark and otherworldly
space Holly has built and invited fans into, both sonically and visually, has been lucid and visceral, with the camera always on her shoulder, a lens into her chaotic thoughts and deep feelings. Already nominated for two Ivor Novello's, winning the BRIT Rising Star in 2022 and coming runner up in BBC Sound Of 2021, Humberstone's bear-all storytelling is the heart of her craft, today releasing "Antichrist" and "Room Service", the double A-Side singles that reflect her introspection and extraversion, two opposing artistic multitudes that inform Holly's lyricism and sound. "I feel like two different people half
the time. My biggest challenge is always to make something I feel I haven't done before, that reflects new parts of me." The new parts of Holly appear on "Antichrist", an exposing image of her last break- up, a heartbreak ballad of self-loathing, set against propulsive pop: "Am I the Antichrist? How do I sleep at night?", juxtaposed against delicate "Room Service", an ode to locking yourself away from the world. The introduction of these two starkly different tracks act as a revolving door into the visceral duality of Holly Humberstone. "Antichrist is about a break up I went through a couple of years ago. I genuinely cared about this person and wanted so badly to make it work, but I knew something wasn't right and my heart wasn't in it. I knew that I was inevitably going to have to hurt the person who I wanted so much to love. At the time I wrote the song, I remember feeling like I was constantly letting those around me down. Like I was falling short of being there for anyone I cared about. I basically felt like the worst person in the world; like the Antichrist. I really felt that I was toxic to be around, and the guilt and self-loathing that came with that manifested itself in this song." "I wrote Room Service a little while ago when I'd just started touring full time. I was finding myself constantly stressed out and although I was having fun, I was really missing home and my friends. I felt like I was watching them live out their lives from a phone screen, like I was being left behind. There was this swelling feeling that I was growing apart from that world that I was missing so badly, and I just didn't want to be forgotten. AlI I wanted to do was to get a hotel room with my best friend, lock the world out and do stupid stuff like order room service. To me, this song is a simple love song to the people I care about the most, and the seemingly basic experiences you share together that can so often be taken for granted. The busier I get, the more I treasure the precious time I get with my friends and family; the more I value them in my life." - says Holly Humberstone With a talent for capturing and characterising moments that are both uncomfortably intimate and brutally revealing in her songwriting and creative – most of Holly's 2022 was spent in hotel rooms, stuck between places, watching life from afar rather than being totally present in it. Lacking real connections and missing loved ones, the stirring official video for "Antichrist", directed by Jean-Charles Chavarin, tells the story of the self-flagellation that comes with hurting someone you love, as you run away from yourself, trying to escape from room to room, until your reflection turns away from you.
WATCH "ANTICHRIST" HERE
Described as "XXX" by XXX on BBC Radio 1's Hottest Record in the world, Holly performed "Antichrist" to 100,000 fans at Newcastle's St James Park earlier this month, supporting Sam Fender and reminding fans that she is one of the most compelling British live acts. But in raw Holly fashion, to reveal the concept behind "Room Service" - living in hotel rooms across the globe and watching the world through a phone whilst wondering what her friends were up to without her - Holly performed the delicate single to 80 fans in room 627 at a hotel last week.

When Holly first brought her intimate live shows to audiences in 2021, fans were already singing every word from her breakout debut EP, "Falling Asleep At The Wheel" released in 2020. A global tour followed, with sell-out shows across the USA including LA's Roxy to two nights at New York's Bowery Ballroom, which led to Holly being invited on tour with Olivia Rodrigo and Girl in Red across North America. It was on these trips through soulless hotel rooms from March to December last year that the 23-year-old began piecing her album narrative together. Striking themes of lost loves, family units, and
the deep-set fears of youth and growing up intertwined with sparse and expansive sonic production, Holly's "crazy" headspace led to the foundations of Paint My Bedroom Black. "I have had such a fun, crazy, challenging few years," Holly says, "I wanted to put absolutely all of that into this album. An album is a much different headspace for me, but it is filled with snapshots of where I've been and where I'm at."
Snapshots of Holly flit everywhere from last year's single "Can You Afford To Lose Me", performed on Late Night With Stephen Colbert, to playing Matty Healy co-written "Sleep Tight" for VEVO, taking festivals by storm from Coachella to her debut Glastonbury performance and Reading & Leeds. Humberstone has become one of the most loved breakthrough artists for her raw, unfiltered, confessional songwriting and distinctive, can-hear-a-pin-drop vocals, picking up fans from Olivia Rodrigo to Phoebe Bridgers, Sigrid to Glass Animals and Sam Fender, and inspiring the next generation of alternative pop acts including Tommy Lefroy, Katie Gregson-Macleod, and Matilda Mann, whilst collaborating with the likes of Jack Steadman in Bombay Bicycle Club and Griff.
Finishing 2022 on a huge high, ending her biggest UK headline tour with 5000 fans singing back favourites "Scarlett" and "Overkill" at O2 Academy Brixton, the physical manifestation of her 242.6M global streams, Holly Humberstone started 2023 with her journal in hand and creative, walled off time, as she locked herself away in Rob Milton's studio in London, to piece together the pieces of herself she felt like she left on the road, in rooms across the world. Holly has become renowned for painting a picture of a place so viscerally, being rooted in the walls and also people that makes a city liveable,
where you can "get drunk with your mates and just forget about work". From her family home in "Haunted House" to feeling lost and isolated in her London shared flat with The Walls Are Way To Thin, Paint My Bedroom Black is Holly's fragmented and dark love letter to friends and lovers, a hideaway from the world when her fans need one.
Tracklisting
Paint My Bedroom Black
Into Your Room
Cocoon
Kissing in Swimming Pools
Ghost Me
Track 6
Antichrist
Lauren
Baby Blues
Flatlining
Elvis Impersonators
Girl
Room Service