Brilliant, Uplifting and Inclusive !!
Hope & Social - Ukraine Humanitarian Appeal Fundraiser
Thu 17th Mar 2022
Doors:

7:30 pm

/
Show:

8:30pm
(Showtimes Approx)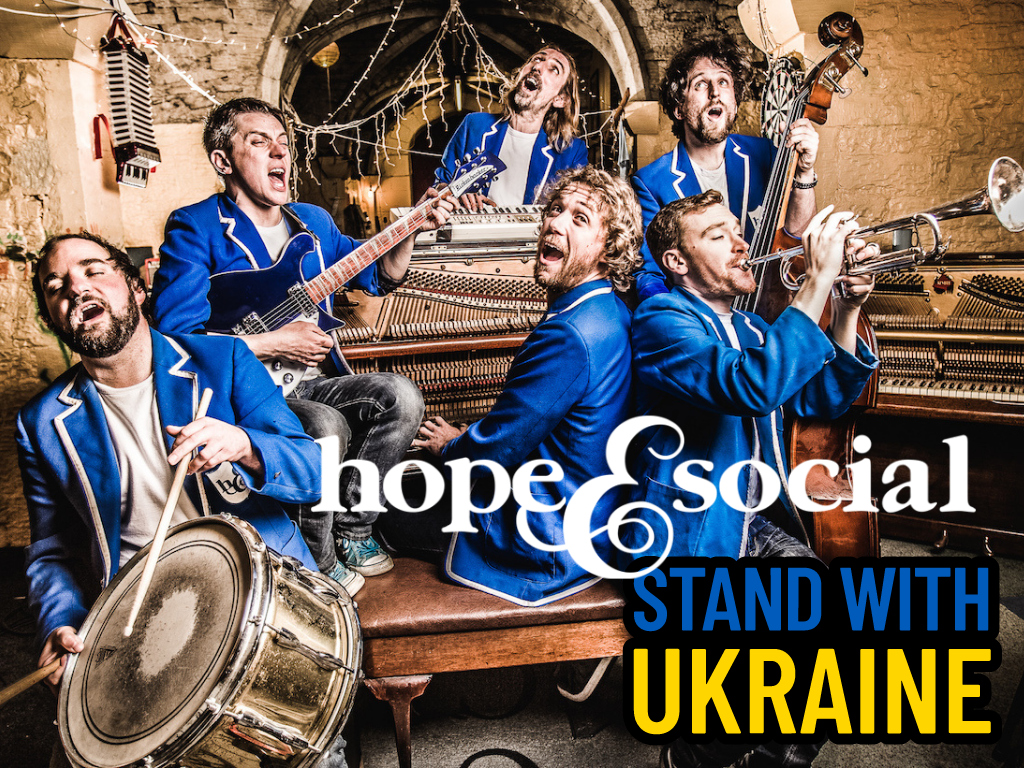 £15 Adv / £17 Door
We all need Hope right now and what better way to raise it than in a Social way. We love our Brook community and so are hoping we can come together and through the power of music raise some money to help the Ukraine Humanitarian Appeal.
All ticket sales as of today onwards and on the door will go to the Ukraine Humanitarian Appeal to support the families fleeing the conflict who have left their homes with only the items they were able to carry. Help us provide food, water, shelter, healthcare and protection to these people in need.
In addition to this all proceeds from Sharp's Brewery Product sales that evening at The Brook will also go to the Ukrainian Humanitarian Appeal.
Hope & Social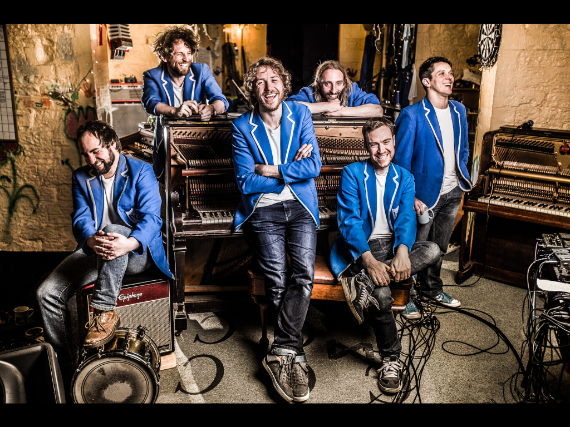 Who are Hope And Social...?
"Brilliant, uplifting and inclusive. Amazing, here's your cheque" - Michael Eavis, Glastonbury Festival
We're a band who do things a little bit differently. We wear blue jackets. We play mind-blowing, balls-to-the-floor, anything-for-a-laugh, much-more-for-a-tear, heart-on-your-sleeve, foot-on-your-monitor gigs. Not gigs. Shows. No, not shows…events.

We're gloriously and fiercely independent. We formed the UK's first fan-funded record label Alamo Music Ltd. We've made just about every mistake a 'professional' band can make and decided that entertaining people and making the songs we love is the most important thing in music. And we like people. We like involving people. "People they are some good".

What have they done?
"I've heard the name vaguely" - Mark Radcliffe, BBC Radio 2
"I Really like Hope and Social!" - BBC Radio 1 - Greg James
We are prolific. In May we release our third album in under three years. There's also been an EP, a live album, countless live shows, thousands of kazoos, Glastonbury, many many Living Room Gigs, the JD Set, a Come Dine With Us event, a Big Band Christmas romp, a trip to the seaside on an open top bus, a Brass Band session, a live recording in our studio The Crypt, numerous music videos, music-industry events…and a baby. Admittedly we do look pretty tired.

Sounds Like:
"a big sound from this impressive outfit...inspired, anthemic, great" - Q magazine
In the tradition of the travelling bands, we guess we're a bit like a Yorkshire E-Street Band... meets Arcade Fire... meets The Faces… meets Dexys Midnight Runners… meets Prefab Sprout… at a party... in an argument about who gets to have sex with David Bowie. We're not as good at describing ourselves as others are, so...
"smash-your-head-into-the-wall brilliant" - Entertainment Weekly
"…one of the best acts around..." - Manchester Evening News

But are they any good?
"one of the UK's top five live bands" - The Independent
"possibly the most complete band ever" - Tim Hornsby
Loved by our fans, and converting people gig by gig… the most honest thing to say is that we try our best!
Hope and Social are... Simon Wainwright: Vocal, guitar, piano / Rich Huxley: Guitar, Vocals / Ed Waring: Rhodes, Organ / Simon Fletcher: Bass / James Hamilton: Trumpet (and other brass) / Gary Stewart: Drums, Vocals… plus anybody else who wishes to don a blue jacket…