SJM Concerts and DFC in association with ILA
Starsailor
Sun 3rd Dec 2023
Doors:

7:30 pm

/
Show:

8:30pm
(Showtimes Approx)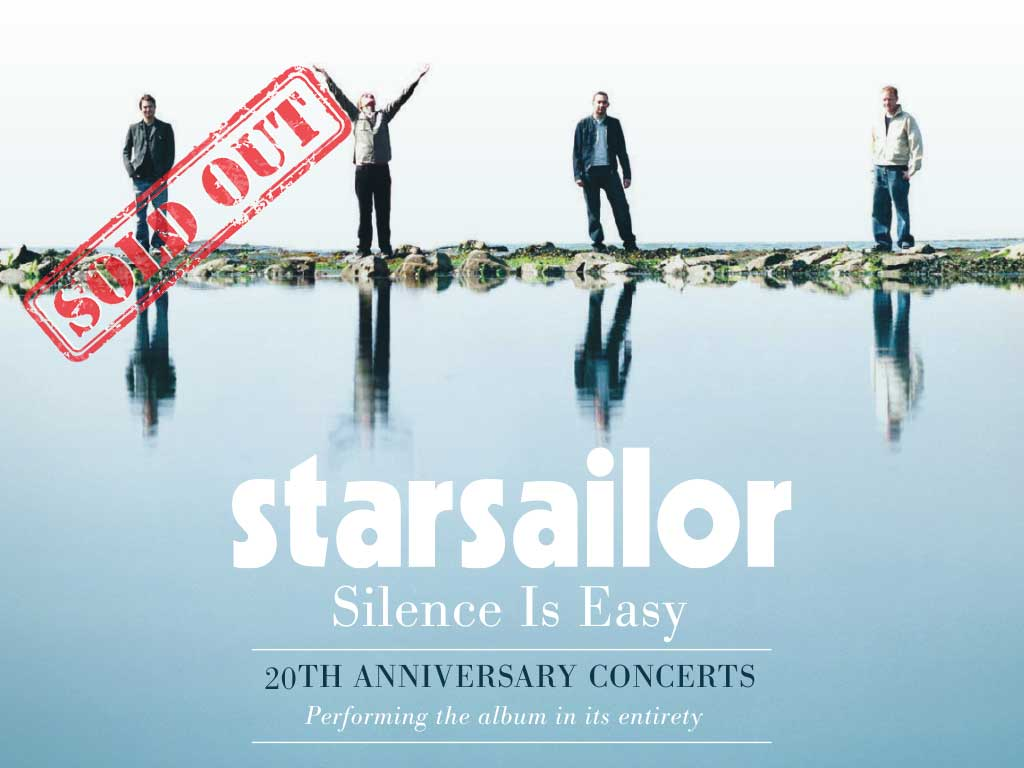 Silence Is Easy ~ 20th Anniversary Concerts
£25 Adv / £29 Door
Silence Is Easy celebrates it's 20th birthday in 2023. The album boasted the radio mugging anthems Silence Is Easy and the string laden Four To The Floor. The latter took on an additional life with the Stuart Price produced Think White Duke Mix. The single boasted hit Number 1 in Europe and is still a quintessential festival favourite to this day. The album is also notorious as the last album that the late Phil Spector produced. The 20th anniversary edition of the album will see exclusives from the band archives plus session tracks. A documentary, Silence Was Easy will also accompany the release
Starsailor
Starsailor – Where The Wild Things Grow.

"In spite of all that we achieved back in the day the feeling of being the underdog has never quite left me."

Where The Wild Things Grow, the new album – produced by Rick McNamara - from Starsailor is one of the natural wonders of the world. Of course, if you're unsure as to the veracity of this conjecture, you should be aware that I am including certain recordings by Nick Drake and Teenage Fanclub and Tim Buckley amongst these worldly treats, as well as more traditional landmarks like the Great Wall Of China, The Leaning Tower of Pisa and the food delivery services of middle England. Indeed, so effortlessly beguiling is Where The Wild Things Grow, you may find yourselves, flicking through your record collection to check whether this bunch of songs has been knocking about your house for years. Of course, this turns out to be a wild goose chase, although Starsailor have been releasing ever-increasingly brilliant records for so long now, that we should be easily forgiven such folly – but herein lies a tale.
Formed in and around Wigan at the start of the millennium, or the end of the last one, depending on which way you want to look at it, and featuring James Walsh (guitar, vocals), James Stelfox (bass), Barry Westhead (keyboards) and Ben Byrne (drums), Starsailor have released five albums to date, including Love Is Here in 2001, Silence Is Easy in 2003, On The Outside in 2005, All The Plans in 2009 and All This Life in 2017. A greatest hits compilation entitled, Good Souls: The Greatest Hits surfaced in 2015, featuring all ten of their UK Top Forty singles to date, including their biggest hit, Silence Is Easy, which reached No.9 in 2003.
Produced by Steve Osborne and recorded at Rockfield Studios, 2001's Love Is Here, in particular, was a breakthrough release for the band – it's sold over a million copies since its release - peaking at No.2 in the UK, and showcasing a band operating at the peak of an effortless whimsy. Contemporaneously affiliated to the New Acoustic Movement and ever-present entities like Coldplay and Travis, Starsailor proved to be much more than the sum of their parts, however, a fact picked up on by insightful commentators at the time, the Guardian heralding the band's debut as "an intricately produced tempest of a record," whilst the NME noted "an edge that pushes them way beyond the feathery, big-eyed, hatchling indie of Coldplay." "Twas ever thus, I hear you cry, but when Starsailor reconvened to Los Angeles to record their second album, success surely beckoned – except success sometimes arrives with a caveat in the form of Phil Spector.

"I feel uneasy revisiting that chapter given the tragic events. It was a huge honour to work with him at the time but it feels different now."

Spector first heard of Starsailor, after his daughter Nicole saw them playing live in the US in late 2002, then fell in love with the band's Lullaby single, before agreeing to produce their new record. It was an uneasy alliance. "Working with him was a tale of two halves," says Walsh now. "The first sessions we did were great, and we got 'Silence Is Easy' and 'White Dove' out of them which still stand up. When we reconvened, it became more difficult to work with him. It was a stressful time for the band because we really wanted it to work at the time given the pressure on the second album and the hype around a Spector-produced album." After an aborted stint with Spector at Abbey Road, the band ended up co-producing the rest of the album with Danton Supple and John Leckie, although the title track - one of the two surviving Spector-produced tracks – would go on to be a Top Ten hit in the UK in September 2003.
In October 2005, Starsailor released their third album, On The Outside. Produced by Rob Schnapf in LA, the album spawned three singles – In The Crossfire, This Time and Keep Us Together – and led to memorable live performances at Hyde Park Calling and V Festival in 2006, and several dates supporting the Rolling Stones in Europe. Three years later, on March 9th 2009, Starsailor released their fourth album, All The Plans. Described by Walsh at the time as "the perfect companion to Love Is Here", All The Plans - featuring Stones guitarist Ronnie Wood on the title track – was hailed as a masterpiece, the Times suggesting, "Starsailor sound like a band in love again with being a band" whilst the the Guardian claimed "with no one expecting it but themselves, Starsailor have delivered." Naturally, a hiatus followed, punctuated by a Greatest Hits compilation in 2015, and a fifth album, produced by Embrace guitarist, Richard McNamara, entitled, All This Life in 2017. Now, some six years later, it's time to get excited all over again.

"I've changed a lot as a person since the early days of Starsailor. I feel much more grounded and have a better perspective on things."

In September 2022, ostensibly to celebrate the 20-year anniversary of their debut album, Love Is Here, Starsailor set out on a fourteen-date UK tour. The band's set throughout the tour featured that lauded record in its entirety – and in the correct order! – as well as a smattering of hit singles and noted past releases. The tour was also noteworthy for the arrival of another item of interest, a new song called Heavyweight.
A sure-fire single, and a straight up love song seen through the lens of boxing - punch drunk love! - Heavyweight means – according to Walsh – "this isn't a fleeting thing, and we're in it for the long run, the ups and downs, and it will feel heavy sometimes." Showcasing some extraordinary prog-infused guitar histrionics, Heavyweight intrigues as much as it entertains as soon as we arrive at the chorus: 'No punchline to anticipate/No undercard/This Is heavyweight/Guard up, don't hesitate/No undercard/This Is Heavyweight,' sings Walsh, and one is immediately reminded of – of all things – Steely Dan! How lame those Coldplay and Travis comparisons seem now, as Starsailor canter through a record of astonishing complexity: Dead On The Money – "a song about being flat broke but full of hope, although I like the fact it means exactly right too. Like knowing deep down you're on the right track even though recovery is slow" - which kicks things off, will remind you of Chameleons, Supergrass and I Threw A Brick Through A Window-era U2; the folk-tinged Flowers (featuring some stunning slide guitar by Spritualized's Tony 'Doggen' Foster) was inspired by a documentary about a flower seller in Aleppo who "just kept setting up his stall, despite the bombs going off around him, dedicated to providing a tiny haven of beauty during such a devastating time"; Enough (I Should Be Home By Now), has a wonderful, rolling, mid-Atlantic quality reminiscent of the Eagles' finer moments; and After The Rain - "the most joyous song to put together, just a lovely process" – was inspired by The Band, Crosby Stills and Nash, and the Laurel Canyon scene. Themes of love and hope pop up all over the record: on Hard Love, Walsh muses on the simplicity of single life when compared to the complications and range of emotions of a relationship – spoiler alert, he comes down on the side of the relationship, if it's with the right person! - whilst Hanging In The Balance is about that delicate time, "the early stages of a relationship when it's starting to get real and you're on the precipice between it becoming something life changing or you both going your separate ways." Best of all is Where The Wild Things Grow itself, which has that slightly uneasy, otherworldliness reminiscent of those early Bowie or Pink Floyd recordings. "I wrote that in my old flat at night," says Walsh now, "I could hear the pipes creaking. I was thinking of Maurice Sendak and Stanley Donwood's Radiohead art. There's an early Ed Harcourt song called 'Beneath The Heart Of Darkness' that's an influence too. The brooding otherworldly darkness."
Where The Wild Things Grow – the album - features additional guitar work from Rick McNamara and Travis's Andy Dunlop, as well as backing vocals by Lucy Joules (Sam Smith). Rick, himself, who produced the album, is now unofficially 'the fifth Starsailor', or, as Walsh puts it, "another creative in the room who really cares about the songs and pushes us to our limits."
Over the past two decades, Starsailor have been compared to everyone from Neil Young and Van Morrison, to Wigan compatriots, The Verve – Walsh cites the latter's homecoming show in front of 33,000 people at Haigh Hall on 24th May 1998 as a revelatory experience – although, concurrently, perhaps we should add Tim and Jeff Buckley, as well as Arcade Fire to that increasingly debatable list. Whatever your pronouncements on the matter, one thing's for sure: Where The Wild Things Grow bears up to candid analysis, repeat listens proving it to reveal layer upon layer of casual observations and quiet reflections on life being loved, and love being lived. It's also an album that has no right to be as good as it is - and yet here it is.


Starsailor release Where The Wild Things Grow in January 2024 on Townsend/Absolute.

© Jane Savidge February 2023.