DAY 1 OF THE GIN & BEER FESTIVAL - Doors @7:30pm
The Fallen State
with
Psycho Village
,
Liberty Lies
,
Our Propaganda
,
Pieminister Launch
Thu 29th Mar 2018
Doors:

7:30 pm

/
Show:

7:30pm
(Showtimes Approx)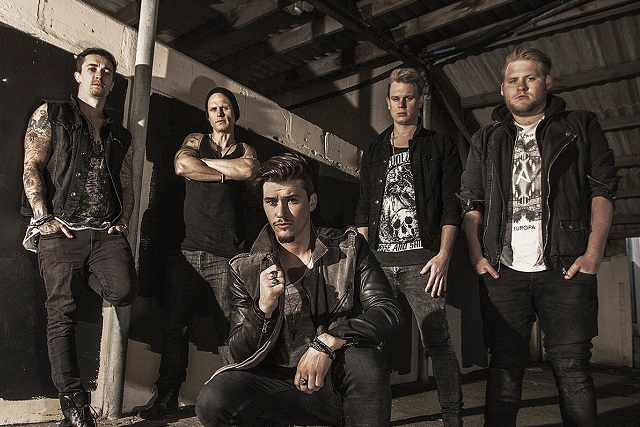 ​ The Fallen State are a rock band on the up!
£10 Adv / £13 Door
Stage Times
Our Propaganda: 19:45
Liberty Lies: 20:20
Psycho Village: 20:55
The Fallen State: 21:30
They are a welcoming reminder that fast-paced hard rock will never die and perform with the same energy as legends such as Shinedown and Alter Bridge and instantly impress. Forming in 2013, they are already building a solid following and seem to be picking up pace with each release. Give them a go ~ they will be huge very soon!
The Fallen State
'Style and substance with a passion for performance'
If nothing else these words roar out what The Fallen State is all about.
The Fallen State was raised in the Autumn of 2013... when five young men with a mutual love for powerful, anthemic and beautifully executed rock, found themselves in a room together. For these guys togetherness isn't just a dream but a reality… they have that extra, indescribable 'musical magic' tattooed across their songs… the artistic ink of five individuals harmonised into something greater than the parts.
Fresh from successful tours with Black Stone Cherry, US Grammy winners Halestorm, 3 Doors Down and fellow UK rockers Young Guns and Heavens Basement... they live for the live show, with their stylish take on the musical legends of both sides of the Atlantic from the Hammersmith Apollo through Rock City and Manchester Academy, to Download Festival and Ramblin' Man Fair and to the club in your town...
Musically, The Fallen State combine the exuberant and soulful voice of singer Ben Stenning, the artful emotive phrasing of lead six-stringer Jon Price and a Dan Oke inspired harmonic wall of warm, contemporary rock guitars. Mix this beautiful meld with grooving and ruthless rhythms courtesy of drummer Rich Walker and bassist Greg Butler… there can only be one outcome… infectious, body-rocking songs that'll leave crowds hungry for more.
In only three years, they have developed a stunning reputation by selling out shows with their modern, incisive and inspiring performances allied to their prolific output of five lovingly crafted EPs (I,II,III, Crown Your Shadows and The View from Ruin) in the same brief period of time. This reputation further grew this year with a succesful headline tour in the Spring and a14 date UK summer tour with Puddle of Mudd and Trapt backed up by heavy single airplay including the critically acclaimed video for iTunes #4 charting track 'Nova' on Kerrang TV, Scuzz! and BBC Radio.
Wherever you are right now, The Fallen State is rising… and this year we'll be delivering our hi-octane, groove-ridden, rock n' roll triumph to a venue near you. We will see you on the road!
Brand New EP - The Fallen State 'The View from Ruin' EP available NOW in hard copy and all major streaming/download services!
The Fallen State Is:
Vocals – Ben Stenning
Guitar – Jon Price
Guitar – Dan Oke
Bass – Greg Butler
Drums – Rich Walker
Psycho Village
"The guys sound so professionell and mature on their debut record that even Shinedown, Alter Bridge & co should be ready. 7 songs, 7 ear catchers, 7 times dynamite. " (RockHard, Germany). After 3 top-10 singles in the Austrian Charts, and shows with bands such as PLACEBO, IMAGINE DRAGONS, QUEENS OF THE STONEAGE and KORN, PSYCHO VILLAGE are still intensively touring and promoting their highly critically praised record SELFMADE FAIRYTALE - part 1. With close to 10.000 units sold, and award nominations in Austria and Germany, Psycho Village is one of the hottest acts from Austria and should certainly not be missed if you have the chance to see them live.
Liberty Lies
Liberty Lies are a five piece formed in 2008 from a small town called Wednesbury in the Black Country, West Midlands.

Aged 16, the band found themselves purchasing a PA system and performing covers in pubs in order to fund their original material, which they slowly introduced to their sets.

By 2009, Liberty Lies had notched up a number of support slots with the likes of GUN, Skin, Towers of London before landing a UK tour with rock veterans Magnum.

2010 bought their debut EP release, New Addiction. The EP showcased the bands early influences, from the likes of Black Stone Cherry, Alter Bridge and Shinedown.

Not long after this, LL had a change in line up, which brought about a much more alternative, modern sound which later became their debut album Reflections, produced by Romesh Dodangoda.

2012 was a landmark year for the band as they embarked on their first European tour, supporting Shinedown and Halestorm in Germany, Holland and the UK.

Liberty Lies found themselves being able to headline small shows around the country for the first time in their career. Nationwide UK runs with other unsigned bands helped the band create their follow up EP, Fracture. They were also voted as finalists of Red Bull's unsigned band competition which almost see them win a place at Download Festival.

Once again, the band returned to Cardiff to record the EP with Romesh.

In recent years, the band have signed with TKO Booking Agency and toured with the likes of Max Raptor, Heaven's Basement, Santa Cruz, Empire, Press to Meco and had one off shows with Alien Ant Farm and Skillet amongst nationwide festivals.

2016 will see Liberty Lies release their latest single Are You Listening and do their most extensive UK tour with SOiL, Saliva and Sons of Texas amongst summer festival appearances.
Looking to produce something uniquely different the band's sound continually evolves.

The band's latest output is a four track EP entitled 'Fracture' which they recorded with Romesh Dodangoda at longwave studios in Cardiff. The EP 'demonstrates the band as both superb song-smiths and adroit musicians', check it out now on Spotify and iTunes!
Our Propaganda
Hailing from the breakwater towns of South East England, Our Propaganda is Jack Denton, Charlie Denton, Joe Newman and Harvey Groom. A rock band through and through but with more to offer than just drinking songs and fake stories of 70s style extravagance. "Sometimes music comes out of nowhere and you wonder why the artist isn't better known. Our Propaganda are a case in point... confident and bold with a cool rock sensibility, these guys have a great future!" Alan Dorey (Forest FM).

Our Propaganda is an honest creation of this generation. Lyrically, it's a band that looks further than the buttons on their jeans. We're a direct response to the world we've been handed, the media we've been force fed and the lifestyle we've chosen as a consequence. After all, where would music be without a little revolution?
"Sometimes music comes out of nowhere and you wonder why the artist isn't better known. Our Propaganda are a case in point... confident and bold with a cool rock sensibility, these guys have a great future!"
- Alan Dorey (Forest FM)

"Our Propaganda; Great players with great songs of their own... Impressive stuff!"
- Ken Hensley (formerly of Uriah Heep).

"Our Propaganda makes the set a visual as well as a great audio experience... The band shows that great evolving rock n' roll is still alive!"
- Jon (Rock Regeneration).

"An energetic and vibrant source of new rock n' roll, Our Propaganda talk about the things that nobody likes to talk about."
- Lorelei Reddin (The Daily Echo).

"Joined by South Coast favourites Our Propaganda, he promises a night of great rock songs on his first return to the UK for fifteen years."
- Lorelei Reddin (The Daily Echo) on Ken Hensley live at The 1865.

"Interesting and surprising... Our Propaganda; a great young rock band, very much with their own sound and persona."
- Keith Collins ("Forever Young", a worldwide syndicated radio show).
Pieminister Launch
Exciting news coming from The Brook today! As part of our FOUR Day Gin & Beer Festival, starting this Thursday 29th March with three great, feel good gigs over the weekend and culminating with an ALL DAY CLOSE OUT PARTY on Sunday 1st April, we can now announce the launch of our our new range of hot, fresh pies, provided by Pieminister ~ perfect with a pint!! A great range of delicious pies, offered with mash, peas, gravy and sides! Yum!!
Our selection of pies will be available from door opening. The award-winning pies are made in Bristol using responsibly-sourced ingredients.